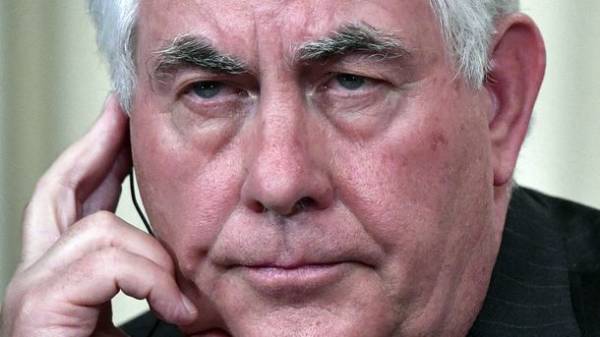 The U.S. Secretary of state Rex Tillerson in Kiev will be a continuation of initiated in June by President Petro Poroshenko talks in the United States. This opinion was expressed in comments to the edition "GORDON" ex-foreign Minister, MP Borys Tarasiuk.
He believes that the us diplomat flies to Ukraine for a specific purpose, not just to say Hello.
"About the visit Tillerson Ukraine and the US agreed during a visit of the Ukrainian delegation to Washington. That is, the continuation of the talks between the two countries. The U.S. Secretary of state in Kyiv, albeit for two hours, it's still positive. You need to understand that Tillerson is not going to fly thousands of miles just to say Hello with the leadership of Ukraine. He goes for a specific purpose. The results of the negotiations we will know after his visit," – said Tarasyuk.
The politician stressed that the visit Tillerson suggests that the U.S. is interested in Ukraine.
"You should pay attention that Tillerson will visit Ukraine almost at the same time with the Secretary-General of NATO and Secretary of state of the United Nations. Obviously, there will be a meeting at the level of the Commission Ukraine – NATO. I think that after it will be possible to expect any political message. And the visit to Kiev Tillerson says that US interest in Ukraine. And last but not least, this interest is associated with the Russian-Ukrainian war. Most likely, it will be one of those talks", – added ex-the Minister.
Yesterday in administration of the President of Ukraine confirmed that Rex Tillerson will visit Kyiv on July 9.
Comments
comments