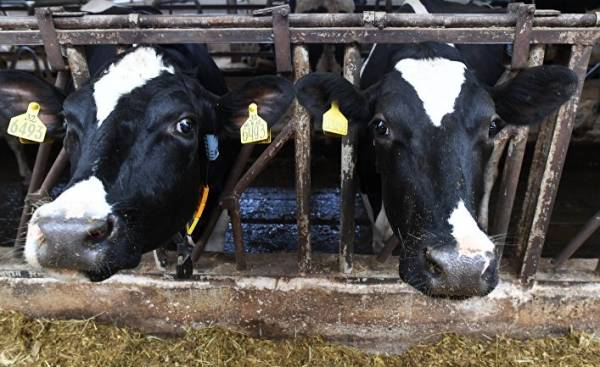 Head of the barn is not like that in a huge room for milking cows, guests are.
"We have very strict rules of hygiene, and cows should not be disturbed. Milk production is a delicate matter," he says.
It is typical for the largest economy of Kazakhstan. Everything is left to chance, technique is the most sophisticated and moonlight are not allowed. The farm bears the name "homeland".
The farm is private but receives state support, which depends on the volume of production. According to the Deputy Director General for ideological work, too Agrofirma "Rodina" Andrei Verevkin, using distributed small and large farms proportionally. But, in his opinion, many do not use it, as to her great work.
It is hard to imagine how huge the grounds of "homeland". Only arable land is 50 hectares. The cattle fed with their feed, and they need a lot, because the farm — four thousand cows.
Cattle can be put out to pasture, but he's not constantly grazing. When feeding cattle on pasture is impossible to balance the feed.
There is even an Orthodox Church and a kindergarten
The Director of the farm "Rodina" every Saturday takes new job candidates. Everyone wishes to get there because the farm workers except wages, have many privileges such as a free apartment, medical care, free daycare and school for children, and award on the occasion of the birth of a child or holiday.
The majority of farm workers — the Slavs in the Orthodox Church, although most of the residents of Kazakhstan are Muslims. This, according to Andrei Verevkin, a mere coincidence.
Cow farms account for 37 tons of milk per day in the next two years these numbers will increase to 50 tons. Plant for the production of dairy packaging is calculated on this amount.
Head of production packaging works Lyudmila. She did this both in Soviet times and now are very happy with the change.
"The best thing is a new packaging machine, and milk quality is very high. Hygiene now on an entirely different level."
And other employees packaging operations also say that they are happy. The farm has everything a family needs, even a small zoo where you can take children for a walk.
You can now solve the case management
Huge farm — like a special world in the middle of endless steppe. It resembles the giant economy of the Soviet Union — the collective and state farms. But it is very different.
"No one from the top does not dictate us what to do. One only the owner can decide what we're going to grow, how many cows to keep and who to sell the products," says Andrey Verevkin.
Most live in small villages
The farm "Rodina" is unique in Kazakhstan. There are other large farms, but they were not modern.
Of the 17 million people of Kazakhstan, about 42% live in rural areas. A large part of the populated rural areas in Kazakhstan looks quite different. People live in small villages and livestock only for their own needs. Most of them work in nearby towns.
It usually does Damir Aitimbetov, which is temporarily not working and has been repairing his house. Her family is husband, son and parents. Repairs required because in April the house is flooded with water after a dam nearby. People had to evacuate, and things not.
Grandpa Kenes Aytimbetov asks foreign journalists to show documents. Without it, he wouldn't even talk.
"It is not the date of Your birth. When You were born?"
After receiving a response, he begins to tell about the village. Here in peace and harmony live representatives of many religions and nationalities, and the city is easily accessible by bus.
People — a bit intimidated
Aytimbetov are unhappy because the compensation for the damage caused during a flood, he had not paid. On the other hand, the family did not registered the house as requested, and payment without registration is not paid.
It was a delicate issue, and the family doesn't want to talk about it.
Suddenly the neighbor comes and says there is police and no interviews can be given.
"We will not have any problems because of this?" — asks Damir Aytimbetov.
Kazakhstan is the richest Central Asian country, which is already 26 years managed by the President Nursultan Nazarbayev. Control is tight, so people are careful.
Comments
comments