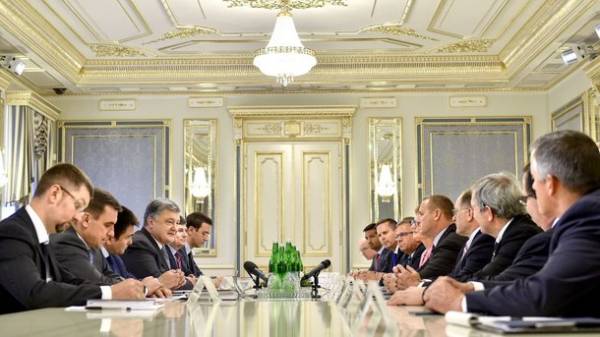 President of Ukraine Petro Poroshenko had a meeting with a bipartisan delegation of the U.S. Congress, composed of members of the house of representatives John.Denham, M. Bost, B., Westerman, R. Davis, M. Desaulnier, M. Capuano, C. Cobelo, D. Lamalfa, B., and R. Farenthold Aderholt.
About it reports a press-service of the President of Ukraine.
The head of state expressed gratitude for the consistent bipartisan support for Ukraine from the side of Congress in opposing the continuing Russian aggression and strengthening the stability of Ukraine through the implementation of appropriate reforms.
Z delegacy the US Congress discussed smorning oboronosposobnost of Ukraine, and takozh Paasilinna torgovelnye-economcial cooperation pic.twitter.com/UEd3HPjLYM
— Petro Poroshenko (@Poroshenko) on 3 July 2017.
In this context, the sides also discussed issues of strengthening the defense capability of Ukraine, providing in the budget of the United States appropriate funding assistance in the field of security to our state, and strengthening investment, economic and trade cooperation.
Petro Poroshenko informed the congressmen about the situation in the Donbas and the continued violations of the cease fire from the Russian side controlled by militants.
In this regard, was the need to maintain and strengthen international sanctions against Russia until the complete fulfillment of the Minsk agreements, as well as the restoration of the sovereignty and territorial integrity of Ukraine, including Crimea.
Petro Poroshenko expressed hope that the U.S. House of representatives will support the recent legislative initiative of the Senate of the United States, which, in particular, provides strengthening and extension of sanctions against Russia.
The American side highly appreciated the results of the visit of the President of Ukraine in Washington on June 20-21 this year.
Comments
comments