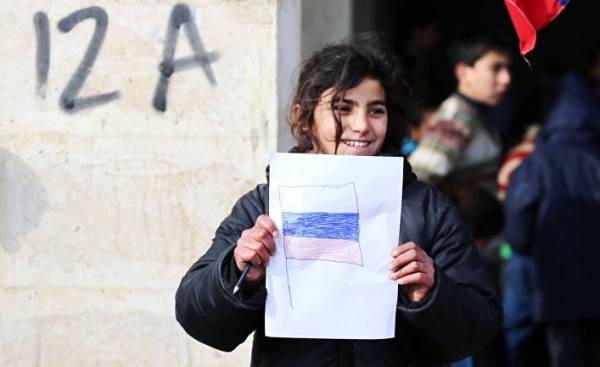 The international community and regional authorities "stepped on the throat" of Russia. After a chemical attack in Khan Sheyhun followed the American response — the bombing of Syrian air base "Sirat". Russia seeks to get out of this predicament, using stunts and tricks, which at the time appealed to us President Barack Obama.
Vladimir Putin during a press conference with his Italian counterpart Sergio Mattarella said that from reliable sources, Russia is aware that in Syria, including in Damascus, was only a provocation with chemical weapons.
The Russian President said, "We have reliable information obtained from various sources that such a provocation, I don't have another name that produced in other parts of Syria, including the southern outskirts of Damascus. They plan on continuing to use poisonous substances in order to accuse the Syrian authorities of their use".
Putin said that the West uses the idea of "common enemy" in the face of Syria and Russia to normalize relations with trump. He also pointed out that during the election campaign Donald Trampa Western countries strongly criticized it, however currently they're trying to find "common enemy", which will be a connecting link between America and the West.
Putin said that Russia is ready to wait the end of this anti-Russian campaign, but at the same time, Moscow hopes that in the future the country will connect the "close and positive cooperation."
At the same time, the Russian defense Ministry announced that "currently, armed groups are preparing provocations against the Syrian government in the alleged use of toxic substances in the Khan Sheyhun airport, al Jira, in the Eastern ghouta and Western Aleppo.
On Monday, in his statement, the chief of the Main operations Directorate of the General Staff of Russia, Colonel-General Sergey rudskoy explained that the Russian defense Ministry has "information indicating that armed groups are currently being transported toxic substances in areas of the city of Khan Sheyhun, airport al Jira, Eastern ghouta and West of Aleppo".
Rudskoy said that the purpose of these operations is to invent a new excuse to accuse Assad's forces of using chemical weapons to push the United States to strike the Assad's forces. He said that "he was recorded case of the use of chemical weapons, including those created by improvised own hands by armed groups."
These statements came after, as Russia has called for an independent investigation concerning the alleged attack on the town of Khan Sheyhun. The Agency TASS citing a diplomatic source reports that the Russian delegation demanded the convening of an emergency meeting in Geneva, whose goal would be to discuss the ceasefire in Syria.
The source pointed out that the meeting was held at the initiative of the Russian side, was headed by the special representative of the UN Secretary General on Syria Staffan de Mistura.
Comments
comments