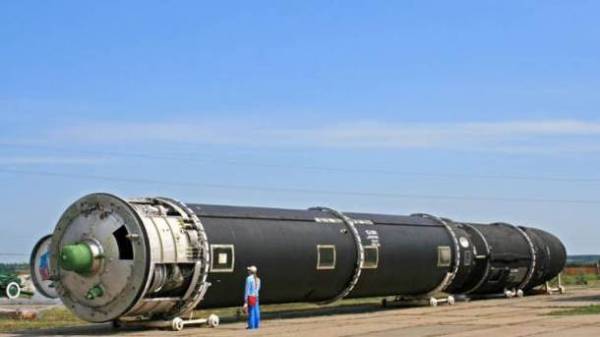 Russia intends to adopt a new ballistic missile "Sarmat", which will replace the world's most powerful rocket "Voevoda" (Satan), but it will not threaten Ukraine. This was told in the comment "observer" the Director of military programs Razumkov Center Nicholas Sungurovsky.
According to him, the missile would be part of the nuclear potential of Russia and will serve as a deterrent for Americans.
"This missile was developed in the framework of the modernization of the missile potential of Russia. Between the US and Russia have an agreement on the limitation of strategic offensive arms. Under the Treaty countries agree to have no more than 1550 deployed warheads and 700 carriers. At the moment there is some parity in these numbers, but Russia is not fulfilling the contract object. This is due to the modernization of the existing Arsenal," said Sungurovskiy.
He also reassured that this class of missiles in Russia does not exist for attacks on Ukraine.
"Ukraine enters into the blind area – such missiles in Ukraine would not shoot. It is for the United States. This so-called deterrent. The menacing potential, which includes the United States and Russia, the less likely the outbreak of war. This is based on the strategy of nuclear deterrence – the threat of mutual annihilation keeps countries from the beginning of the war," – said the military expert.
"Sarmat": missile length of about 30 meters, diameter of 2-3 meters. Its mass is 100 — 150 tons and will be able to fly 16 thousand kilometers. Charge power – 100 Kt-1MT.
Earlier, defense Minister Sergei Shoigu said that the Russian army were armed with powerful new weapons, particularly Intercontinental ballistic missile "YARS".
Comments
comments