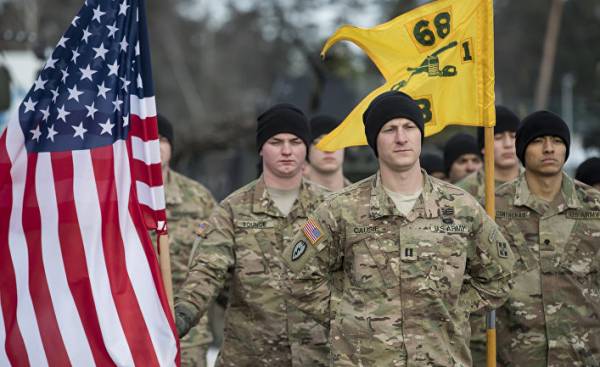 In Lithuania, a visit by the U.S. Senator, Democrat Richard Durbin said Tuesday that the U.S. military in the Baltic States should be stationed on a permanent basis.
"I would like to see a permanent presence of the US military in the Baltic States not only to complement the efforts of our NATO allies, but also to ensure that U.S. commitments to the sovereignty and security of the Baltic States", — the Senator said to reporters at the Presidential Palace after meeting with President Dalia Grybauskaite.
In 2014 after the annexation of Crimea, the U.S. sent in each of the Baltic States and Poland in the company of their military. In the Baltic countries was also placed special forces of the United States. This year for participation in exercises in Lithuania will often be a battalion of US stationed in Poland brigade.
"We must continue to do everything in our power to help the Baltic States to protect themselves," said Durbin.
American politician of Lithuanian descent also discussed with the President the request of Lithuania to the United States to take a more active part in the provision of antiaircraft defense (air defense) of the Baltic States. Officials of the Baltic States have long said that defense is one of the weakest points in the Baltic States militarily. To strengthen air defense considers the ability to grant more powers to carrying out the mission of the air police fighter allies and the possibility of additional ground-based weapons.
Currently, the Armed forces (AF) of Lithuania have only air defense systems short-range and made a decision about the purchase of the Norwegian system of medium-range NASAMS. Earlier it was reported that they can be transmitted up to 2020 for an amount slightly more than 100 million euros. Lithuanian and foreign military discussed the possibility of embed in Lithuania in the future anti-aircraft missile systems long-range Patriot that can shoot down planes or ballistic missiles, but no decisions about this today, is not accepted. R. Durbin said he supports Lithuania's aspiration to obtain from US more guarantees in terms of air defense.
"It is very important to ensure that the Baltic States were not vulnerable to the aggression of Putin (President of Russia Vladimir Putin — ed.) and I fully support that," said the Senator. "I'm ready for it. As a member of the appropriations Committee, the Committee that spends the money, I'm ready (to make defenses for the Baltic countries). I am sure that this is an important commitment that we should take to Poland and the Baltic countries," he added. About the U.S. capability to provide air defense of the Baltic States by the President last week spoke with the Vice President of the United States Mike Pence.
Comments
comments