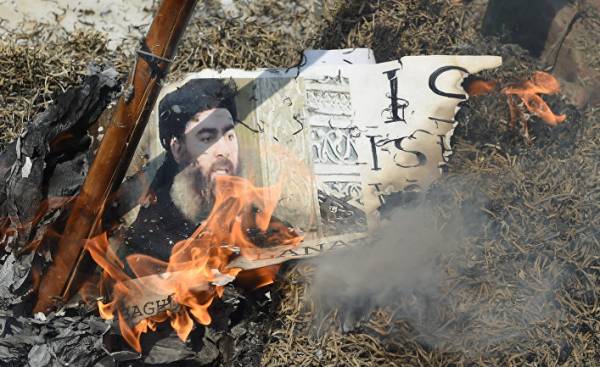 In the summer of 2014, the leader of the terrorist organization ISIL (banned in Russia — ed.) Abu Bakr al-Baghdadi declared the creation of an Islamic Caliphate in Iraq and Syria. He did this while in the mosque an-Nuri in the Iraqi city of Mosul.
Now the Iraqi armed forces again took control of the mosque and the Prime Minister of Iraq declared an end to ISIS. He says we are now witnessing the end of an Islamic state.
"The proof of this was the liberation of Mosul," wrote Abadie on Twitter.
Press Secretary of Iraq's armed forces also said that "a fictitious state of LIH Palo".
Is the true end of the so-called Islamic state is really close?
Pressure on all fronts
Captain rank III Thomas Lensvik (Thomas Slensvik) — senior lecturer of strategy at the school of the Armed forces, and he, in particular, an expert on Syria and ISIS. He says the fight against ISIS in Mosul is not fully completed, but the restoration of control over the mosque of al-Nouri has an important symbolic value.
"ISIS still controls a small part of the city. But the victory over ISIS in Mosul is a matter of time. For a short time, Iraqi forces have freed the last urban areas, which served as a refuge for ISIS, although the restoration of full security in these areas may take several months," says Sleswick.
ISIS cornered on all fronts, says Norwegian expert. From a geographical point of view, the terrorist group still controls a relatively large area, especially along the Euphrates on the border of Iraq and Syria, but the population density in these areas is quite low.
"ISIL have so little power that they can't mobilize for a big offensive. Obviously, they are everywhere losing ground," says Sleswick.
It's no longer a state
Although in the border area ISIS controls villages of different sizes, the biggest value, however, has control over the city of Mosul in Iraq and over the city of raqqa in Syria.
"Raqqa is surrounded by, and when ISIS will lose control of the city — a question of time. They also have no way to counter-attack. If Syrian troops will act tough, they can break the resistance for a few weeks, but it will probably take a few months," says Sleswick and continues:
"The fall of Raqqa and Mosul, means the collapse of the ISIS as a state. They still control significant territory, but when they have no more cities, it is difficult to prove that they — the state. They are on the verge of collapse and as a great organization".
Captain rank III believes that now it is important that ISIS will do when you will be defeated. They can turn into a resistance movement, they can try somewhere to move, it may be that they will cease to exist.
"When ISIS becomes weak enough and will not be considered as a threat, it may happen that the attention will focus on other enemies."
"ISIS will never be reborn"
According to Lenvica, ISIS consists of a rigid main core, as well as a number of tribes and groups joined to him. Senior lecturer believes that we will see how the group will move away from ISIS by weakening the terrorist organization. He also thinks that ISIS will be a big problem with the involvement of new people.
"Before ISIL was recruiting supporters on the basis that they are country, and here they had the advantage over other terrorist organizations such as al-Qaeda. ISIS loses this advantage and it becomes difficult to expand their ranks. They become the organization, the draft of which was unsuccessful. Now the situation is will start to deteriorate dramatically," says Sleswick.
Captain III rank suggests that in order to defeat ISIS in Syria and Iraq, it may take years, if focus on that. He believes that the chances that ISIS will be reborn again, it is almost zero.
"It is extremely unlikely. Some fear that they'll just move to another place, for example in Yemen or Somalia, but to do so it will also be difficult."
Comments
comments