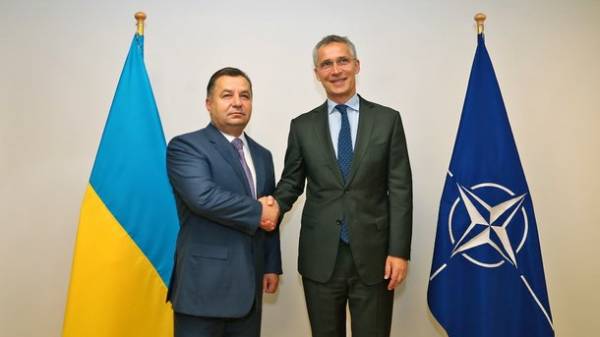 Today, June 30, in the headquarters of NATO, Minister of defense of Ukraine General of army of Ukraine Stepan Poltorak met with NATO Secretary General Jens Stoltenberg. About it reports a press-kouba of the Ministry of defense.
The Minister of defence of Ukraine informed Secretary General of NATO about the current security situation in the East of the country, as well as about the activation of subversive activities in the country.
In addition, Poltorak said that the defense Ministry intends to join the fight against cybercrime.
"We clearly understand all the challenges and threats, including threats arising from cyber attacks on critical government facilities in the country. Therefore, the planned set of measures to counter these threats," – said Poltorak.
In turn, Stoltenberg emphasized that it is essential to continue to keep a transparent and understandable policy and to convey to the international community and the public about the aggressive actions of Russia against Ukraine.
"Everything that happens in Ukraine will always be on the first positions in the agenda of the Alliance," said NATO Secretary General.
As you know, 27 Jun largest hacking attackthat spreads the virus Petya, was subjected to Ukrainian banks, energy companies, government Internet resources and local network of Ukrainian media and a number of other large enterprises.
The attacks began almost simultaneously at about 11:30. Virus that locks computer systems, spread very quickly. It manifests itself in the failure of computers on a Windows platform, your computer restarts and the virus encrypts all the data on it.
Later, the postal and telecommunications of Ukraine issued a number of tips, compliance with which will help you avoid getting infected with a dangerous virus.
We also learned from the company ESET, which develops software to combat harmful computer programs that Ukraine had most of the virus attacks Petya – 75,24% of the total number in the world.
Comments
comments