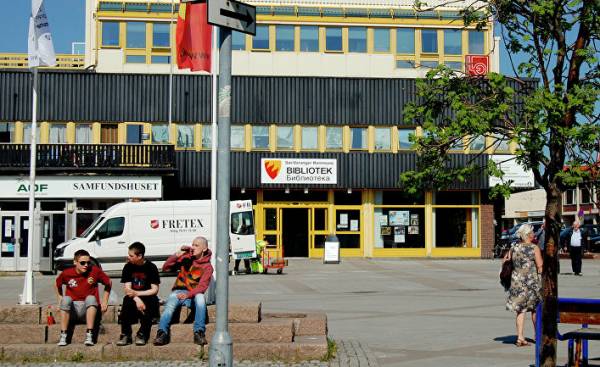 Norway spends hundreds of millions on projects of ecological rehabilitation of Russian nuclear dump is located near the borders of both countries. At the same time representatives of local authorities of Norway left from this process.
"Just 50 kilometers from here there are thousands of spent fuel assemblies," — said the mayor of Kirkenes, rune Rafaelsen (Rune Rafaelsen).
His municipality 196 km border with Russia, and from the municipality of Kirkenes to the Russian large dumps of spent nuclear fuel at Andreeva Bay on the doorstep.
"If the Andreeva something happens, we will feel the effects one of the first," says Rafaelsen Barents Observer.
The mayor stresses that local authorities should have been included in the official Norwegian delegation, which visited the dump today.
The Minister of foreign Affairs of Norway børge Brende (Børge Brende) went there with a large delegation of government officials and experts. But local representatives among them.
Minister Brand has arrived to celebrate the first shipment of spent nuclear fuel from the old worn-out warehouse.
"We should invite the delegation — said the mayor Rafaelsen. — Involvement of the authorities of the country to participate in the process of local professionals should be self-evident."
According to the mayor of Kirkenes has its own carefully developed preparedness plans in case of a nuclear accident on the Russian side. He says that in the municipality there are specialists with appropriate knowledge.
Other local agencies also have procedures in case of a nuclear accident. The head of the local civil defence units Meyer, Terje (Terje Meyer) confirmed Barents Observer that his team every year conducted similar exercises.
Thanks to the cooperation with the Norwegian radiation protection Agency in Meyer, there are six mobile groups of the radiation monitoring is able to take the necessary measures.
The hospital in Kirkenes also developed an action plan in case of a nuclear accident on the Russian side.
In storage in Andreyev Bay 22 contains thousands of spent fuel assemblies — the legacy of the policy of the Soviet era. Vault is located in Zapadnaya Litsa on the coast of the Barents sea.
Since the 1990s, the object attracts international attention, since most of the waste was stored in poor conditions and even partially outdoors. One only Norway is providing assistance in the millions to ensure the safety and environmental remediation of the site.
This week the first batch of containers with highly radioactive uranium fuel assemblies have to be sent along the coast of the Kola Peninsula from Andreeva Bay to Atomflot in Murmansk, where the railroad will take them for processing at the plant "Mayak" in the southern Urals.
Comments
comments