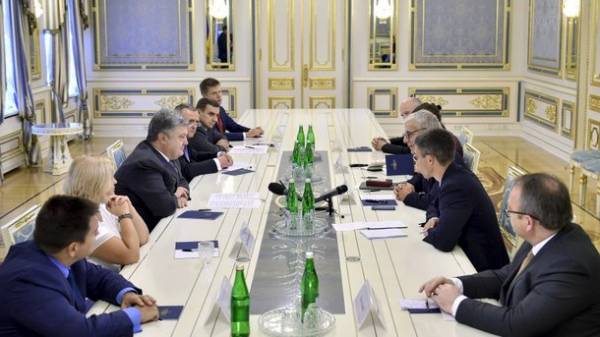 The President of Ukraine Petro Poroshenko received a delegation of French senators led by the head of the friendship group Ukraine-France hervé Moray (Herve Maurey) and discussed with them the situation in the Donbas and Crimea.
"The head of state expressed concern at the systematic violations of Minsk agreements by Russia and supported militants, in particular the continued provocations, which undermine the implementation of the initiative for the establishment of the ceasefire regime by the beginning of the new academic year, as well as hindering the activities of the Special monitoring mission of the OSCE", – informs the official website of the President.
Poroshenko supported the intention of the group of French senators to visit the ATO zone and to get acquainted with the situation in the Donbass in connection with the continuing armed aggression of the Russian Federation. The parties also discussed the state of implementation in Ukraine of political and economic reforms.
SEE ALSO
The French foreign Minister was interested in the proposal for peacekeepers
Moray welcomed the implementation of reforms in Ukraine. "We have seen that in the two years that had passed since our previous visit, Ukraine under Your leadership has done a lot of reforms in different sectors: the fight against corruption, reform of the banking sector and the energy sector. This result is really fascinating, the more because these reforms are carried out in conditions of actual war. So we want to congratulate You with these achievements," he said.
Poroshenko, in turn, expressed hope for the support of France for further steps towards the integration of Ukraine into the EU.
Earlier it was reported that Germany and France will develop the concept of the presence of "blue helmets" in the Donbas.
Comments
comments