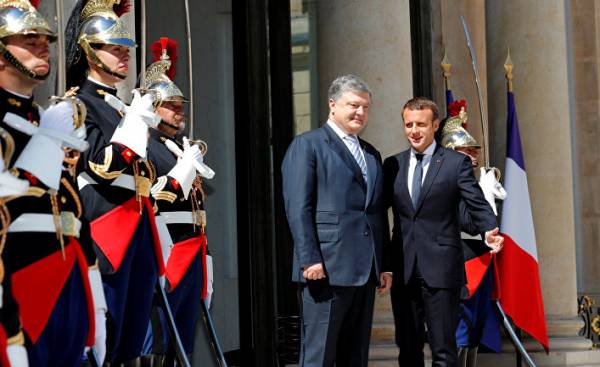 Le Figaro: How was your meeting with Emmanuel Macron?

Petro Poroshenko: the Victory of Pro-European candidate, Emmanuel Macron is very symbolic and good for my country and me — I promised to bring Ukraine to Europe. In addition, I love the style of Macron. I think that I didn't have a more effective meeting than the one I had with him in Paris. I love this culture results. Emmanuel macron was clear and pragmatic. He assured me that it does not recognize the illegal annexation of Crimea. We agreed on concrete measures to revive the Minsk agreement before the next meeting in the Normandy format, which will be held in the coming days or weeks.
— You have also had a meeting with Donald trump. You are worried about his unpredictability?
Barely being elected, Donald trump called me to confirm American support for the sovereignty and independence of Ukraine. This powerful signal is added by the fact that the Ukrainian case is supported by both houses of Congress and the entire Executive branch of the United States. In truth, my meeting with trump was even better than I had hoped. I found him very open and very well prepared, adamant. I think he pays special attention to Ukraine. Why? Because among all the international challenges it faces, particularly in the middle East and North Africa, the conflict in the East of Ukraine is easy to resolve. Russian does not need Donbass, I even think that they are ready to leave.
In the end, the fight with Vladimir Putin, you are now less profitable?
In October 2016, Vladimir Putin quietly waited. He had no need to act. He expected much from joining the White house, Pro-Russian Donald trump and pinned great hopes on the victory of françois Fillon or marine Le Pen. In the end, Donald trump took new sanctions against Russia, France Emmanuel macron is pursuing a Pro-European and responsible politician. Russian expectations were not met.
— Do you feel sufficient support from Europe?
After Breccia europessimism could be extended to other countries of the EU and cause a Domino effect. Fortunately, the opposite happened. Despite the efforts of Russia, the Europeans were able to mobilize, the EU maintained its unity and values. Brakcet has led to a revival evrooptimizma. And I personally am glad since share these values.
Why is it so difficult to eradicate corruption in Ukraine?
— Because it comes from afar — from the Soviet system of corruption, which were deeply rooted in society and in the minds of everyone. I would argue that we have achieved brilliant results in the fight against corruption and in the reforms that have affected all sectors of our economy and society. It is not easy to reform in a country at war. Yet, that is exactly what we managed to do. We stabilized the inflation, restore economic growth and reduce the budget deficit.
— In your opinion, what is the next target of Vladimir Putin in the region?
— Vladimir Putin is completely unpredictable, so it's hard for me to answer this question. He can go anywhere. If I had said before that he wants to Annex Crimea and attack on the Donbass, I would never have believed it. Just because this war is not in his best interests. The only person in the world who knows what will Vladimir Putin in the coming months, is Vladimir Putin himself.
— Do you think that it is more predictable than trump?
Yes. Much.
Comments
comments