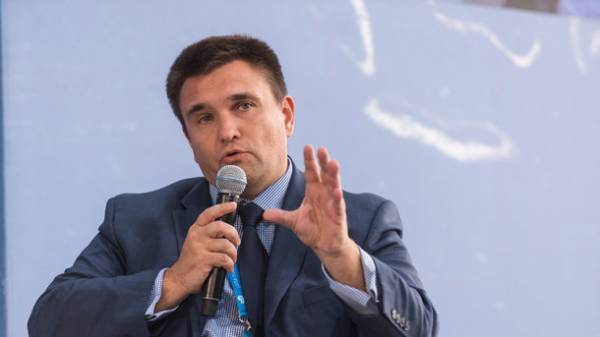 To return Russia to a democratic system is not enough to just "turn off" the propaganda society of this country imbued with authoritarianism, says the Minister of foreign Affairs of Ukraine Pavlo Klimkin. He said this at the 14th Annual meeting of the Yalta European strategy (YES), organized by the Victor Pinchuk Foundation.
"A few days ago in the new York times was a very interesting article by Mikhail Khodorkovsky of Russia's future. I can agree with many points that he made … But I can't agree with one point – how much time it will take the return of Russia to democracy if we turn off the propaganda. I say shut down the propaganda is not enough – the reality is quite different, " he said.
Pavlo Klimkin added that their attitude to democracy in the Ukrainian society is very different from Russian.
"For us, democracy is very important, it is an existential concept. But in Russia it is impossible without a system of autocracy, without such a system, as Putin has created", he concluded.
However, according to former Secretary of state of the Russian Federation (1991-1992), President of the Baltic-black sea forum Gennady Burbulis, a significant part of Russian society perceives quite European, democratic values.
"Modern Russia is not only the Kremlin. Of the 146 millions of people – tens of millions live European values, they are directly ready to defend them in a form that is closer to them," said former state Secretary of the Russian Federation.
At the same time he noted that Russia is now suffering from a deep Imperial syndrome, which affects its internal and external policies.
Earlier Pavlo Klimkin has said that Ukraine should make every effort that Russia has not been able to use the introduction of the peacekeeping mission in the Donbass in its aims, in particular to legitimize the insurgents and their forces.
Yalta European strategy (Yalta European Strategy, abbreviated as YES forum) is an annual conference organized by the Victor Pinchuk Foundation.
The conference gathers the most influential politicians and businessmen of Ukraine and the world, it has been held annually since 2004.
HELP
Yalta European strategy YES: what you need to know
The aim of the conference is the development of Ukraine and its European future, as well as establishing international ties.
The founder of the Yalta European strategy, Victor Pinchuk, a prominent Ukrainian businessman and philanthropist.
Comments
comments