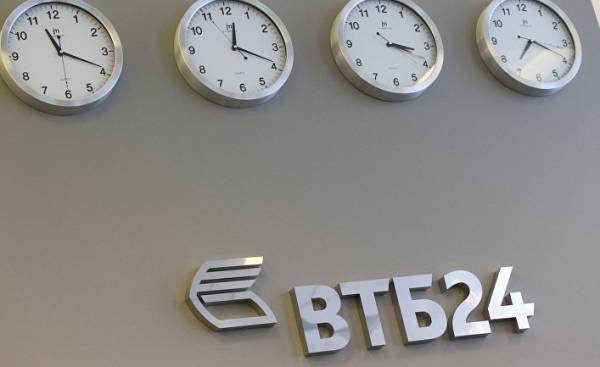 Russian state Bank VTB found a positive point in the economic isolation of his country.
When, due to financial sanctions and falling oil prices, Russia is two and a half years ago was in a recession, the retail branch of the Bank managed to double the number of wealthy clients, who escaped the worst moments of the crisis. Now the second largest Bank of the country intends to increase market share by luring rich Russian back home and take them away from foreign asset managers, which seriously interfere with the increasingly complex rules and regulations aimed at combating money laundering.
"Our goal is to attract customers, which currently cater to foreign banks, said during an interview with Pavel Kudryavtsev, head of the Department VTB for work with VIP-clients. — Russian citizen could take up to six months to open an account in a European Bank. In VTB it takes only two days."
According to estimates VTB, only 25% of the capital wealthy Russians are stored within Russia. But this figure may increase because foreign asset managers have to carefully check their clients and to comply with increasingly stringent standards of compliance, which prevents them to fight for depositors ' funds. Foreign banks such as Deutsche Bank AG and Royal Bank of Scotland is mired in scandals related to the fact that they help the Russian to withdraw from the country by the billions, presumably applying the scheme of money laundering.
Imbalance in income
VTB currently controls the capital wealthy Russian clients in excess of one trillion rubles ($16.7 billion), though the competition for depositors ' money is very acute. Cyprus, which has become a favoured financial centre for Russians, gives foreigners the opportunity to obtain EU citizenship less than six months in exchange for investments with a minimum amount of two million euros. For the money fight and traditional leaders in service to private customers such as Credit Suisse Group AG and UBS Group AG.
In Russia the biggest difference in income between the rich and the poor among major economic powers. According to Credit Suisse, 89% of private wealth concentrated in the hands of 10% of the population. About two-thirds of Russian workers earn less than $ 655 per month, and President Vladimir Putin last week said that a particular concern to him is the increase in the number of people living below the poverty line.
"In periods of market volatility the divergence in wealth is increased and clients are moving to more quality services," — said Kudryavtsev.
Asset managers in Russia last year has significantly benefited from the fact that the amount of money in private Bank accounts in Russia increased by 15% to 6.25 trillion without adjusting for changes in the exchange rate. This was announced by the company Frank Research Group.
Major players
VTB and other state banks, such as Sberbank, also benefited from the fact that the Central Bank spent cleaning in the Russian financial industry after 2014 took away the licenses of three of the Bank to liquidate poorly managed organization with a small capital.
"The most notable trend is the concentration of clients' funds among the major players in the private banking market and, in particular, from banks, state-owned or have foreign capital," — wrote on June 20 analyst Frank Research Group Love Prokopov.
Banking services wealth management in Russia are the customers, whose total assets is at least one million dollars. VTB puts forward the requirement that residents of Moscow kept its accounts 50 million rubles, and only after that provides such services. The clients from regions can attain such a status, putting about 30 million rubles, or about 500 thousand dollars.
Kudryavtsev said that he intends to increase the number of customers with large as to 18 thousand by the end of 2018, with 11 million currently.
"Market conditions are unequal because the wealthy clients richer choice of options," — said Kudryavtsev. However, he believes that aspiring to operate abroad of the new rules requiring "know your customer", improve the attractiveness of the Russian managers of private capital, as "part of the European banks asking their customers to provide documentation on the transactions carried out by them 10 years ago."
Comments
comments