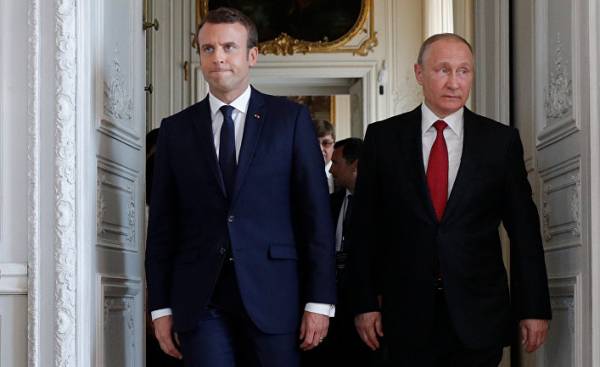 Macron, as a representative of a new generation of politicians, very serious attention to the situation in Ukraine. What can he offer to Putin? Speaking about the range of Macron to hold a meeting of the Normandy Quartet, I note several important points.
1. Everything happens on the background of the fact that trump tends to shift much of the responsibility for European Affairs on Europe. Despite his symbolic meeting with Poroshenko and demonstration support, in talks with Merkel, and with Makron was discussed that it is the responsibility of Europe. The Americans help with money or sanctions, but in the Ukrainian crisis to intervene will not.
2. Makron in a hurry to strengthen its position, including international, and hence to the channel format. So he is taking his time and wants to arrange early meeting. Does not the fact that it will take place. But usually such things are not disclosed at the presidential level, if there is any doubt that this is possible. If the macron said that, the meeting is likely to take place, because otherwise it will be a blow to his reputation. Although Putin has a lot of things have accumulated and the channel format, and to Him personally. And he may want at the last moment to dramatically withdraw from the meeting.
3. No one knows what lies in the pocket of Him and that he wanted to propose on the agenda of the new channel format. The important thing is that he still has something, otherwise he wouldn't have to call ahead of time.
The question still rests in Putin, who appears increasingly disillusioned with the Minsk process (it seems all disappointed). The Minsk process, its basic problem solved. Major players involved in this format, wanted to achieve a one — stop military actions of the military scale and freeze this process. Now one side interprets the Minsk agreement, the other that way. Accordingly, no visible progress there. And the Normandy format envisages the talk of major European players.
Macron, as a representative of a new generation of politicians, very serious attention to the situation in Ukraine. I don't think he will offer Putin something nice. The President of Russia and he knows it, so is unlikely to agree to this meeting with great enthusiasm.
If we talk about the information that the meeting between Putin and trump at the summit of "Big twenty" may not happen, it is important to understand that this kind of leak is the element of the political struggle will take place — will not take place. Trump acts quite primitive. To meet with Poroshenko he found the time, and to meet with Putin, he might not find time. This is a symbolic and controversial step.
If the meeting trump and Putin to take place — this will be presented in Russian propaganda as a great success. If you do not take place — will be a sign that Putin has finally become a pariah. It is considered that it is impossible to drive a rat into a corner, but with some rats the only way to behave. In any case, Putin is not a member of the group of eight, he lost his status in the top twenty, if trump refuses to speak, it will be even more unpleasant. Putin's Russia is losing prestige and reputation, drawing nearer to the status of a rogue state.
But this does not mean that the position of Ukraine will automatically improve. The main problem of Ukraine, it seems to me — not even Putin. The problem is the ability to carry out effective reforms, to improve economic condition. Yes, spit on Putin. It is clear that war he did not begin, for he lacks the resources. It is clear that his goal is to stay in power. But Ukraine faces quite different problems.
Comments
comments