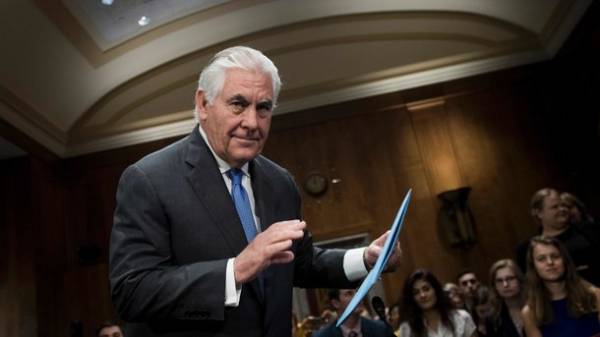 Requirements of Saudi Arabia, Bahrain, Egypt and the UAE against Qatar can be the basis to continue dialogue on resolving the conflict, said on Sunday U.S. Secretary of state Rex Tillerson.
"Qatar began to scrutinize a series of demands presented by Bahrain and Egypt. Saudi Arabia and the UAE. Although some elements (these requirements – ed.) to Qatar can be difficult to implement, there are significant region (for interaction – ed.), representing the basis for continuing dialogue leading to the resolution", – reads the statement of the head of the U.S. Department of state.
"Productive next step would be for all countries to continue negotiations. We believe that our allies and partners is stronger when we work together to achieve a common goal", – the document says.
U.S. Secretary of state stressed that this goal – the suppression of terrorism and the fight against it.
In addition, Tillerson said that Washington will continue to remain in close contact with all parties and will continue to support the mediation role of the Emir of Kuwait.
Previously, Saudi Arabia, UAE, Egypt and Bahrain through the representatives of Kuwait, Qatar gave the list of 13 requirements that 10-day is for Doha, the condition for normalization of relations.
Among this list is the requirement for Qatar to withdraw from the presence of Turkish troops on its territory and to stop military cooperation with Turkey within the country.
Comments
comments