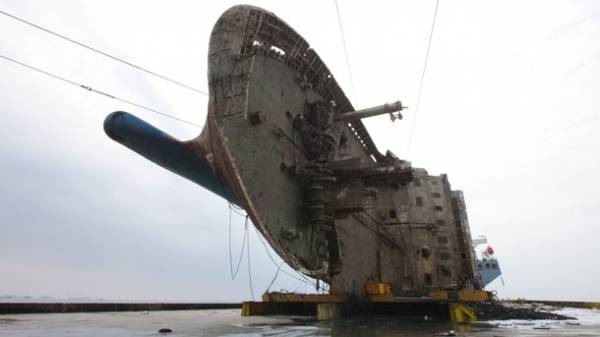 This week was raised from the bottom of the Yellow sea 6825-ton ferry Sewol, which sank on 16 April 2014 off the coast of South Korea due to a roll and shift of cargo containers to one side.
Today was finished pumping fuel residues and sea water with the ferry, and then transported him to shore at the port of Mokpo. Then on the bottom, the crash has dropped the team of divers who will explore the area for wreckage and possible remains have not yet found the bodies of the victims.
As of noon today the missing were still nine persons during a disaster aboard the Sewol.
The newspaper Korea Times reported that the body of one unidentified woman was found Tuesday aboard.
"We are working to identify her", — said the representative of the Ministry of Maritime and fisheries of South Korea.
He added that the body was discovered in one of the nets installed on the Windows of the ship. Up to this point 295 people have been confirmed dead as a result of one of the biggest tragedies in modern Korean history.
According to the portal International Business Times, the operation to lift it from the bottom of the ferry was delayed for seven months and cost $82 million during its conduct caused the death of three divers.
Comments
comments