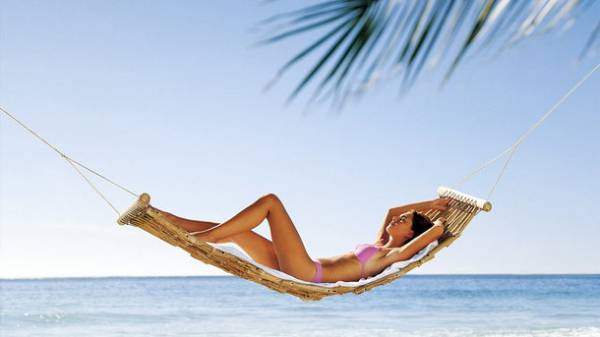 Tension and stress have had a negative impact on the person. Deteriorating health, concentration, memory, performance. Over time, if you do not learn to relax, as tension can become chronic. In fact, in the art of relaxation is not difficult, and if you have the desire, to learn. Below is a look at some of the main secrets of relaxation, which will help to relax and restore energy, writes vitamarg.com.
1. The ability to switch.
The problem with many people is that they unconsciously leave your thoughts where there is tension. For example, a person experiences frequent stress due to issues at work, and even when he is outside the office, he continues to think about the resolve work difficulties, trying thus to bring success. But, as a rule, it does not bring any positive effect. A tired brain can not efficiently search for a solution, to generate ideas, to build a logical chain. So, the first secret art of relaxation is the ability to switch their attention from the object that is the source of tension.
2. The ability to stop and take a break.
Man is inherently a very hardy creature that can withstand any pressure and to adapt to life in any environment, even the most uncomfortable. And what we, as a civilization, survived to the present day, once again proves it. But in order to be able to relax, you must learn to control these processes. Not to take tension as the norm. In extreme circumstances, we may not feel as comfortable as possible and be in harmony of soul, spirit and body. Therefore, it is important to be able to stop and take short breaks to restore energy and remove unwanted stress. Even the most courageous warriors in history, sometimes retreated, and that was their strategic cunning – they were recovered, then to attack with renewed vigor.
3. The force of the water.
Few people use the power of water for relaxation, or people not doing this consciously. Many today have a tradition to go on vacation or holiday to the pond. And people do so not because they have nowhere to bathe, and not even because they want to swim. Many people do this out of habit, and not aware of their main motives. The fact that water has a powerful force – it can cleanse not only our bodies and clothes, but also to get rid of accumulated negativity and psychological stress. Therefore, in the art of relaxation, be sure to use the power of water. If you can not get out on the water, or at least in pool, you can have relaxation in the bathroom, and come out of it rejuvenated and refreshed.
4. The complete isolation.
Few can afford total isolation, but those who regularly practicing this method of relaxation, know how it works. Periodically can allow complete disconnection from the world and people to give freedom to your thoughts and release negativity. Relax in solitude is not boring, quite the opposite. This kind of vacation is much more effective, and recovery occurs much faster.
5. Meditation.
The most popular, and at the same time the most effective way in a short period of time, not just to get rid of stress, but also filled with positive energy. The advantage of meditation is that it can be practiced anywhere, regardless of the circumstances. However, in order to meditate in public places, you will need workout.
6. Sleep.
As corny as it may sound, but the sleep can restore our mental and physical energy, helps to relax. The secret of relaxation is to establish regular sleep and to be accustomed to adhering to. It is the dream that recurs every day at the same time that not only helps to relax but also increases stress.
7. A minimum of emotional stress.
Emotions, such as joy, surprise, delight, lead us into a state of tension. If you want to effectively relax and unwind, be in the moments of relaxation to avoid large emotional stress. Calm promotes a speedy recovery of our inner energy and the body.
Regular rest is not a waste of time, and prudent management of personal energy!
Comments
comments