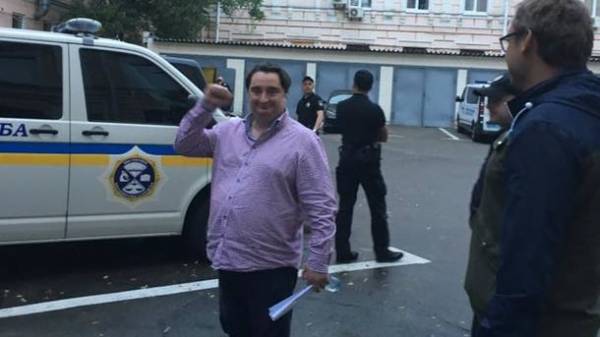 During a search in apartment of the chief editor of the Internet publication "Strenia" Igor Guzhva found rubles and business cards, said his Deputy, Svetlana Kryukova.
"Igor Guzhva home search. Found business cards and 20 rubles – all zrada. By the way, Guzhva handed "pidozra". It, he personally threatened Linko, with whom he has never met. It happens? First time for everything :)" – Kryukov wrote on his Facebook page on Friday evening.
In turn, MP from the Opposition bloc Sergiy Larin on its Facebook page said: "In the apartment of Igor Guzhva is being searched. Found 30 rubles and business cards".
As reported, the evening of 22 June in Kiev was detained the chief editor of the Internet publication "Strenia" Guzhva. As reported by the Prosecutor General of Ukraine Yuriy Lutsenko, Guzhva demanded and received $10 thousand for the deployment of compromising materials on the current policy. The attorney General, at the disposal of investigators have video and photo evidence of the offense.
On Friday morning, June 23, MP from the faction of the Radical party of Ukraine Dmitry Linko confirmed that editor-in-chief "Strenia" Guzhva demanded money from him.
On the same day, the press service of the Prosecutor's office of Kiev reported that the head of the Internet edition "Strenia" Guzhva and his intermediary was detained on suspicion of committing a crime under part 3 of article 189 of the Criminal code of Ukraine (extortion in large amounts).
In the evening Guzhva was handed a notification on suspicion in extortion (under part 3 of article 189 of the criminal code of Ukraine). The Prosecutor's office on Saturday, June 24, will go to court with the petition for election measures of restraint.
Lawyer Guzhva, the former Minister of justice Elena Lukash has posted on his Facebook page a photo of the editor of the publication in the yard of the Central Board of the Kiev police, accompanied by the comment: "see you tomorrow! Thank you for your support!"
He previously Guzhva said that he "sew" rigged the case and it is alleged he was trying to provoke to get the money, from which, as he said, refused.
Comments
comments