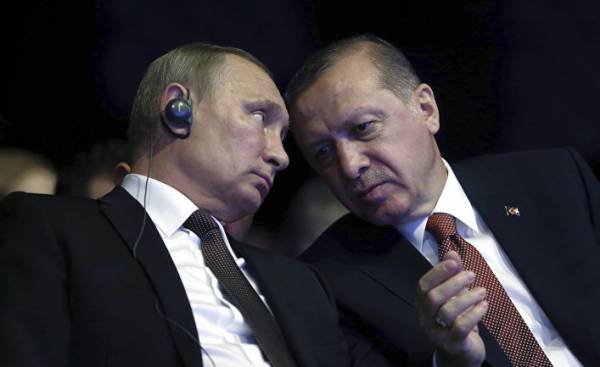 Last night from Russia it's a little "message". Small-premalekha… What was it even exactly is unclear. News, suggestion, comment?
I shuddered. I was not myself. I did that often. I have several times shared in social networks this message, trying to hide their feelings. There were those who became interested, asked questions, commented, shared, "denied", was indignant in the spirit of "do nothing rash".
In the hours that followed this post appeared on several Internet sites. Many websites and TV channels, as far as I could trace, did not notice the news (or noticed, but not given value). To what extent this theme has a place in today's Newspapers, but I don't think it will draw attention.
However, the question is important. It is extremely important. Because maybe we are on the verge of a major crisis in relations with Russia.
***
Our leadership and diplomacy are often unable to understand coming from Moscow's signals, and understanding, unfortunately, do not listen to those who say "something negative".
As someone who knows Moscow for decades, I want to warn you: Russians love to give "subtle signals". And do not say or do anything just like that, just to have something to say or do. After each step, sometimes immediately, sometimes later sure should be the second step.
Even if you do not fully understand, did not attach importance to have forgotten the statements of the Kremlin after 24 November 2015, "accidental" blow to Turkish objects, when in the course of cooperation in Syria, Ankara was sorrownight, the emblem of the Party "Democratic Union" (PYD) in the hands of the Russian military, these signals were given. To be continued…
I write this not in order to Express the admiration and praise of Russian politics. I'm writing to make you know it.
Russian diplomacy is not based on heroism, emotions, impulsive actions. Since Soviet times it is based on a long-term, calm, but strong strategy.
So take a break for a moment from the charm of your own voice and listen to what these signals are telling you in the Russian language. Listen and hear what they have to supply or a threat for tomorrow…
***
Small-permalenke the message last night came from Moscow, was transferred to the Agency "TASS". Then it went to other agencies and sources.
The report said: "According to one source, Charter flights from Russia to Turkey can be suspended."
Supposedly Rosaviation sent Russian airlines such warning.
The source is unknown, there is no certainty that some sort of assumptions, and there may be rumors… No, it is not so!
Although the official representatives of the Russian tourism sector has not made the relevant statements, some players of the tourist market confirmed that they had received this warning.
Then came some more news. Truth, lies, absurdity, exaggeration?
For example, "Russian officials, fearing unrest after the referendum in Turkey, as in the attempted coup of 15 July", think about the safety of its citizens (this phrase I met in a message that also contains errors in the pages of the Agency "Interfax").
It can't be? Charter flights from Russia to Turkey can't be stopped? We're making peace with the Russians? Or not? Perhaps even after the Moscow summit on March 10, Putin did not personally commended the organization of the holiday in Turkey?
Is at the same press conference, Putin announced about the calming us decisions "regarding visas and work permits in respect of Turkish companies and Turkish workers" and said that "soon" all this will be implemented in practice?
If this was implemented? No.
***
Let's extend the question: in the "process of reconciliation" that began after seven-eight months that have passed since the terrible mistakes of Turkey with the downed Russian plane, and "normalization of relations", starting with the summit in St. Petersburg on 9 August 2016, whether there has been any serious progress, with the exception of military cooperation in Syria and two major Russian energy projects?
In an extremely broad spectrum of relations, from the visa-free regime to the trade, construction, customs, cultural relations, have you reached an important step? No!
Only tourism has begun "encouraging revival".
But the Turkish tourism sector, which settled this hope, isn't counting on three, four and even five million Russian tourists (especially in the context of the fact that European tourists will no longer flood our country)? Aren't we ready to accept Russians without passports? Only came…
Russian also, in truth, ready to come. But… For the arrival of Russian tourists from Turkey and Russia should be a good political and military relations. And to the point! In yesterday's the tiny message read: "Charter flights from Russia to Turkey can be suspended." If this happens, it will be a disaster for us, for Turkish tourism! This would mean that Russian tourists will not be able to come to Turkey, though, and I want to come! Why? What's going on?
***
Unfortunately, 24 Nov 2015 Turkish-Russian relations collapsed and now, whatever was said, did not work out. All about Syria…
In Syria a few months anyway observed cooperation (from some points of view, even a successful and generally useful for Turkey).
Then the problems became more frequent.
Russia was concerned that Turkey's acting like he is not going to withdraw from Syria, acting in its sole discretion. Their signals Russia has signaled that it wants the withdrawal of the Turkish armed forces from Syria. But Ankara has had this extraordinary confidence and no one could stop her.
And Ankara has had a tendency to such a tricky maneuver as "to move forward with the help of a Washington where it is impossible to negotiate with Moscow."
With the help of the Americans, who (remember?) protect the Kurds (as a Russian), do not extradite gülen, and even put in jail Zarrabi (Zarrab, a Turkish businessman of Iranian origin, was arrested in Florida on charges of financial transactions to bypass the anti-Iranian US sanctions — approx. TRANS.).
Turkey entered Syria due to Russia and for seven months as a whole was operating in coordination with it. As a result, although Ankara has announced the completion of the operation "Shield of the Euphrates," she could not hide the desire to start a new transaction, even if Moscow does not want this.
***
The missile volleys of the administration of Washington on Syria became important. Not only because of the associated "Tomahawks", but also reactions that have been demonstrated.
The most ardent supporter of a U.S. attack was the Turkish leadership. Making statements, it is not thought either about relations with Russia, nor about the Astana process.
Furthermore, President Erdogan, who just a few days ago called Putin, used the following words: "I spoke with Mr. Putin, but if he still does not understand, "is it worth all of this Assad or not," if he doesn't understand, two days, three days, then we are upset".
Turkey clearly gives the impression that she was starting to refuse to cooperate with Russia. On the agenda is suddenly re-emerged to "overthrow Assad", which some time ago were abandoned. Ankara did not seem to think not only about its position in Syria, but also about the risks to which it exposes the whole range of relations with Russia.
"Anyway, we're reconciled? Everything will work itself". Really? But, no!..
"Charter flights from Russia to Turkey may be suspended," — said in yesterday's message. This means that tourism can get back (after 24 November). Russia likes to give subtle signals. And the rest is a matter of who wants or does not want to understand these signals.
***
Pay attention to the point that have of these events.
The Turkish leadership did not understand that if you just say "we good", then the relationship is still long to return to the previous level (the place where this was discussed most of all, I think this column).
After a long "patience" Ankara, making a "return move" as a reaction to the fact that the Russians do not buy our tomatoes have taken steps that prevent the export of Russian wheat in our country (what, however, hurt not only Russian but also our exporters, but it is a separate issue).
From Moscow came a sharp statement.
Our off with phrases like: "If Russia is the biggest country, Turkey, also a major state. An eye for an eye, a tooth for a tooth!" And then another change in Syria… "If Putin still does not understand" and so on…
"Charter flights from Russia to Turkey may be suspended," — said in yesterday's message. Moscow thus made a step. Is silent now. Watching Ankara. Waiting for the steps of the Turkish side. If Ankara does not make the "expected steps"… the city will make the second step. Charter flights from Russia to Turkey can really be stopped.
Could be followed by other steps. If the relationship is failing in Syria, not recover, soon we may find ourselves in a major crisis in relations with Russia. Russia made the first step, now waiting. How long will she wait? Until after the referendum? Or …
If the statement "on suspension of Charter flights from Russia to Turkey" will be made before the referendum… on the one hand, may have a relationship to a standstill… could also mean "strong voice "no"" that one foreigner who has no right to use his vote in a referendum, "my dear friend Vladimir," will go right before the referendum.
Comments
comments