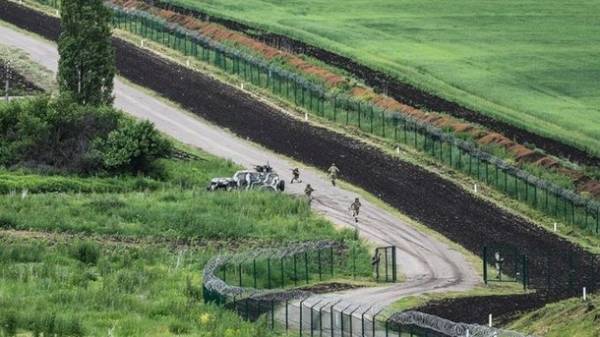 Engineering development of the state border on the territory of Kharkiv region with the Russian Federation on the project "European Val" must be fully completed in 2017. This was stated by the Minister of internal Affairs Arsen Avakov.
"This year, the task and the guards were ready to perform it, so we all Kharkiv border is fully blocked by the project of the European shaft. This year, Kharkiv oblast, then – Lugansk, Sumy. Are our plans and we will insist that the funding was complete," – said Avakov at a briefing in Kharkiv region on Saturday.
"And the Ministry will ensure full use of funds that there is no abuse," – said the NSDC Secretary Oleksandr Turchynov.
Read also: now looks like the "European Shaft" on the border with Russia
Avakov said that the border in the Kharkiv region plans to send a total of 500 million UAH.
"This will be used for the funds allocated this year about UAH 200 million. In addition, the project budget adjustments, which yesterday were approved by Parliament, it is additionally assumed another 300 million UAH. This will allow the whole of the Kharkov section of the border to provide intelligent rigs, seismic cable, to provide engineering infrastructure that no single meter of the border was not without control of the border guards. This system will allow us to securely protect the border of the European Union, with which we are now visa-free regime, and to ensure effective functioning of the European shaft", – said Avakov.
We will remind, Turchynov said that the state border service is preparing to collect biometric data of Russians crossing the border with Ukraine.
It is known that the construction of the wall on the border with Russia began to engage Latvia, Lithuania, Estonia, Norway.
The initiative of the Ukrainian authorities on the equipment of border with Russia has received the name "European shaft", the original project was called "the Wall". 19 Nov 2014 the Cabinet of Ministers of Ukraine adopted a decision to approve the decree of Peter Poroshenko about the designation of the line of the Ukrainian-Russian border. The project involves the construction of trenches, ditches, and special objects. The total length of the Russian-Ukrainian border is over 2,000 km According to the plan of the authorities, "European wave" to become the Eastern border of the European Union.
Comments
comments