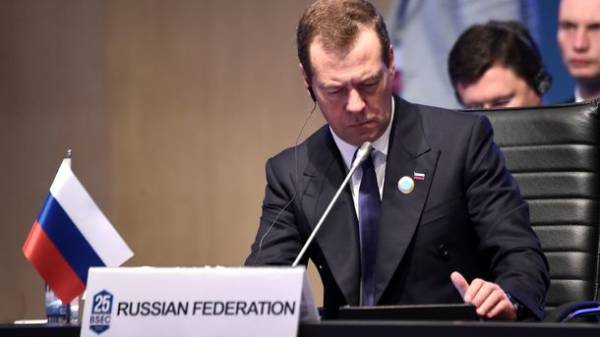 Prime Minister of Russia Dmitry Medvedev did not like that the representative of Ukraine, and the Ukrainian language, at the meeting of the black sea economic cooperation (BSEC) raised the question of de-occupation of Crimea. He reported about it to journalists following the meeting.
"Indeed, our Ukrainian colleagues. It seems to me that in this case, he is called, was noted. He had setup written by Ukrainian Ministry of foreign Affairs, he is a piece of paper on the Ukrainian move and read. It means he has fulfilled his duty. Our position is not in any way does not change, it remains the same, based on the will of the citizens of the Crimea, on the amendments to the Constitution of the Russian Federation. Therefore, from such statements, of course, no internal consequences for our country does not occur", – said Medvedev.
"With regard to external consequences – Yes, Ukraine will preside. If Ukraine wants to develop economic relations, we are ready. We all know that Ukraine lost from destruction of relations with the Russian Federation and other Eurasian economic Union countries, because this relationship on us one way or another largely closed", – he said.
"If they want to develop cooperation in the black sea region, we are ready, don't want – that's their business. This road (ring road around the Black sea. – Ed.) by the way, which was discussed, would be useful for all States and for Ukraine in particular. But such projects without the consent of all States do not occur, it is quite obvious," – said Medvedev.
He assured that Russia will work in the period of the Ukrainian chairmanship in BSEC, because I believe this organization useful.
The Russian Prime Minister has called an important meeting today, since the representatives of countries meet and discuss the future – "sit at the same table and speak the same language, even when there are interpreters".
"The Minister of economic development and trade of Ukraine Stepan Kubiv at the meeting of the BSEC noted that Ukraine believes in this organization, but without the resumption of territorial integrity, no one can guarantee that peace will return to the region", – in turn, reported the press service of the Ministry of economic development on Twitter.
Comments
comments