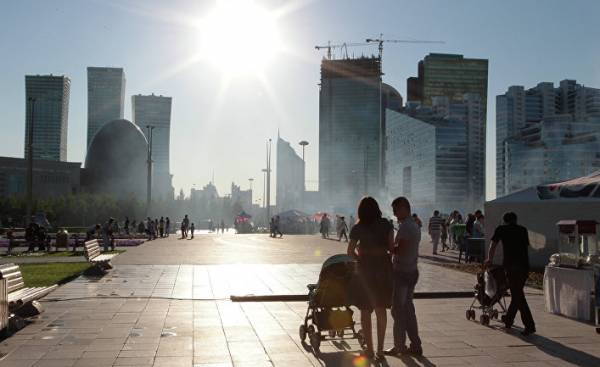 Only one Finnish participant of the world exhibition in Astana personally contacted the reporter of Yle and offered to give an interview. This is IDA Salo (Salo Ida), CEO of I'm Blue, producing blueberry soda.
The fat and the other three owners of the company — the students of the Lyceum of the city of Espoo. They founded their own company under the Finnish educational program "Young entrepreneur". Young people now offers blueberry soda to the Expo.
"We were treated to a soda, even the President Sauli Niinistö," says Bacon.
Noticeable difference in values
Before coming to Astana, the young entrepreneurs didn't think about the issue of human rights in Kazakhstan and that the country is not a democracy.
"To be honest, we are so thrilled that we were able to get to the world show in Kazakhstan as early as school age that did not think about such matters," says Bacon.
The General Directors of large companies know about the problems of Kazakhstan. In General, they believe that if you act in accordance with Western values, while the situation in Kazakhstan will have a positive impact.
Tikkurila and Isku — the main Finnish partners participating in the world exhibition in Astana. Tikkurila underrepresented in Kazakhstan and hopes to increase its presence in the country. CEO Erkki järvinen (Erkki Järvinen) believes it is important to respect Finnish values and in relation to local staff.
"Our enterprises in other countries, too, there is the Western management style," says järvinen.
Enterprises: don't need to be isolated
All representatives of the business world, it seems, think about Kazakhstan do not forget — despite human rights violations in the country and the rampant corruption. CEO of Isku Tiitinen Arto (Arto Tiitinen) is concerned about the shadow side of life in Kazakhstan.
"It is not appropriate for the world in which we now live, but not prevent the development of trade."
Company Isku has launched talks on the supply of furniture for schools and hospitals in Kazakhstan. The country is actively engaged in the development of education and health.
Together with partners Isku has developed a new antimicrobial furniture. The combination of silver and copper for surface treatment and impregnation of fabrics prevents the multiplication of viruses and bacteria in hospitals.
"We would like to occupy a strong position in Kazakhstan," says Tiitinen.
In the world exhibition in Kazakhstan is represented by 72 the Finnish company. The final amount spent on the part of companies is still unknown, but most likely it will rise to three million euros. The government will pay for 75% of this amount, the rest of the enterprise will pay for themselves.
Comments
comments