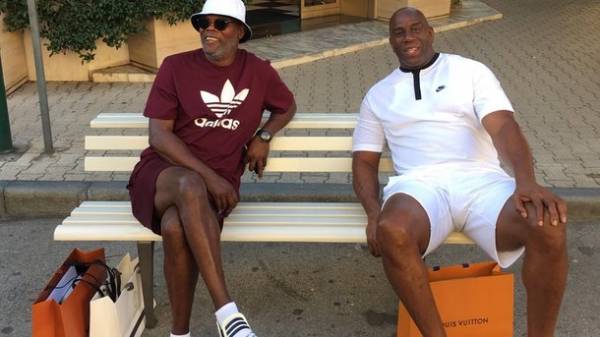 In the Italian Facebook were widely distributed photograph of two "refugees" who sit on the bench with bags from Louis Vuitton and Prada. It soon appeared that a photo of actor Samuel L. Jackson and former basketball player magic Johnson, who arrived at the resort of Forte dei Marmi, – TJ.
One of the first on the "rich immigrants" wrote the Italian model Nina Moric (Nina Moric), which criticized the government for the maintenance of refugees.
"To see the resorts like Forte dei Marmi or Milano Marittima immigrants sleeping on the benches with our 35 euros is really too (35 Euro aid for refugees in Italy — approx. Ed.)", – posted by Nina Moric.
Users in the comments under the entry model, also said that immigrants should be forced to work.
Some recognized celebrities, so accused Morich cheating or tried to translate the situation into a joke. Model also refused to admit his mistake.
Local radio host posted a photo of the actor and the basketball player with the inscription of immigrants, "cashing in" on indigenous Italians, and also urged users to extend it.
Samuel L. Jackson and magic Johnson are already on holiday in Italy. The photo on the bench with bags from the Prada boutique was originally published by Johnson himself.
Sam & I chilling out on a bench yesterday in Forte dei Marmi, Italy. The fans started lining up to take pictures with us. pic.twitter.com/uzXx698PiN
— Earvin Magic Johnson (@MagicJohnson) August 16, 2017
"Sam and I rested yesterday in the resort of Forte dei Marmi in Italy. Fans lined up to do a photo with us", – he signed photo.
Jackson also published a photo from vacation — as he sleeps on a yacht near Saint-Tropez.
Comments
comments