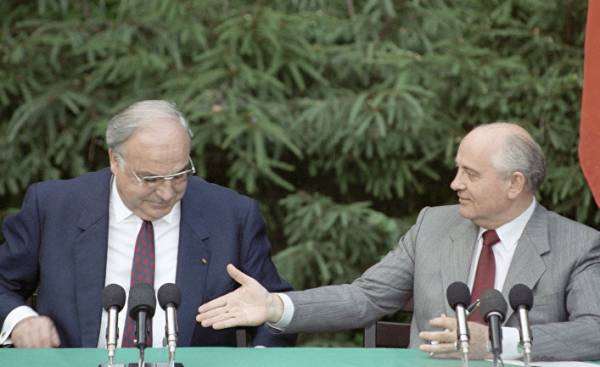 The demise of Helmut Kohl (Helmut Kohl) has caused in the world unexpectedly large response. Those who knew him well, is not surprised. Helmut Kohl is without doubt one of the most significant politicians in German history. He was an eminent statesman of Europe and the world.
His biography shows that from the very beginning and seriously dedicated themselves to the goal of his life, politics. On his way he was waited not only by success. He had to withstand a severe test. It required real courage, will power, endurance and last but not least wisdom. He demonstrated all these qualities and became a politician of the world level.
In those times associated for me with the biggest challenges, Helmut Kohl proved to be a reliable partner on the international parquet. After all, it was a time when the peoples and the statesmen showed determination and worked to the end of the cold war.
We have taken then it is a successful attempt not to look at each other through the scope of nuclear weapons and to establish a relationship of mutual trust. Only in such a situation became possible German reunification. It was an historic event for the Germans, for all Europeans, for the world.
The role in this of the Chancellor of Germany is undeniable. Not accidentally, the Germans awarded him the unofficial honorary title of "Chancellor of German unity". Later followed by new triumphs, and new challenges that Kohl stood with his usual confidence.
Kohl was very proud of his role in strengthening the European Union. In one of his trips to Moscow (he never missed an opportunity to visit me) he gave me a banknote of 20 euros with his autograph: he believed a new currency of their offspring. And these achievements were also appreciated. Today it is considered a "great European".
Our cooperation in politics led to the fact that Helmut and I have built a relationship of trust and also in his personal life. When we are both not occupied the leading posts, we have continued to meet regularly. We had many Frank conversations, and it was not only about politics. So, for example, Since seriously interested in the history of Russia as the origins and recent past. We often participated in public debates to convey the experience of our cooperation to the next generations. Kohl thought it necessary to warn the West against policies of neglect to Russia and disrespect to her.
In these days when we say goodbye to Helmut Kohl, we have to remember his most important political legacy. Its ability to meet the partner, his experience of turning enmity into cooperation and trust is a precious thing in a time when the international situation is extremely tense. I hope that today's politicians will follow the example of his experience, and — better than before. than later.
That would be the best way to remember a distinguished statesman and a wonderful human being Helmut Kohl.
Comments
comments