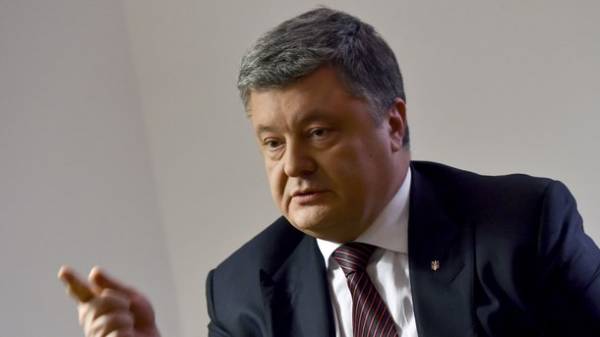 The President of Ukraine Petro Poroshenko has urged the leaders of the "Big seven" to remember history, to show wisdom and vision and not to give Moscow any chances to continue its aggressive policy towards Ukraine. "History teaches us that appeasement does not work", – says the President of Petro Poroshenko in the column for the publication Politico, the press service of the head of state.
"Today the leaders of the "Big seven" are at the same table, where they will speak about the complex challenges to our world order. Selected for this meeting, the day could not be more symbolic for Ukraine", – stated in the article, Petro Poroshenko. He notes that history teaches us that appeasement leads to more aggression and only from a position of strength to defend lasting peace and to restore security and stability. And this – the strengthening of the sustainability of Ukraine by supporting the reform and strengthening of the defense capabilities of the Ukrainian army, including the latest types of defensive weapons.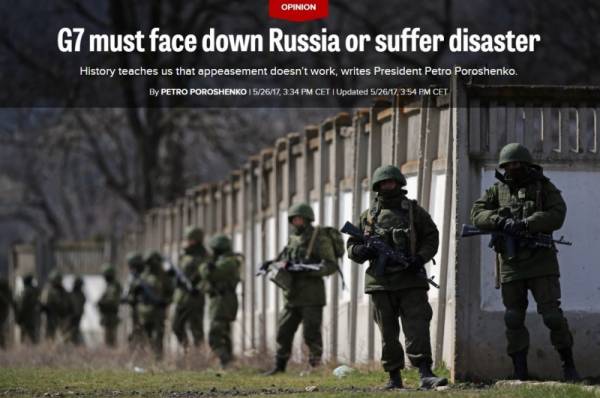 "Today, the "Big seven" club respectful of States and world leaders, of which Russia expelled with shame is a good opportunity for a clear answer to the aggressor. The Kremlin does not wash away the blood on their hands and not to avoid responsibility for the theft of Crimea and the export of war in Donbass", – said the head Ukrainian state.
The President draws the attention of readers to the history, when, in 1936, Winston Churchill said "the era of procrastination" is coming to an end and the world was entering "a period of consequences," but his warnings have not noticed. However, he recalls that "two years before the British statesman, warned Europe of impending tragedy, however, was called an alarmist".
"This mistake will cost the lives of tens of millions of victims. It is very important not to repeat today in Ukraine, which Russia has chosen a Prime target of his revenge for geopolitical failure of the Soviet Union", warns Poroshenko.
The Ukrainian leader said: "Russia will not stop its campaign of aggression until we stop it. The West should demonstrate dedication to the action and to rise a common front to protect the values and respect for international law. Today, as before world war II, time is not on our side. In conditions when the list of victims of aggression continues to grow, defer, or resort to soothing palliatives not just inappropriate, and threatening."
The President also cautioned the free world about the impact of the "Russian hybrid war machine new model", which is constantly gaining momentum. "Its influence is now experienced not only in Ukraine. The tentacles of the Kremlin are trying to go for the jugular and the key of the capital of a United Europe, and the transatlantic allies," he said.
Comments
comments