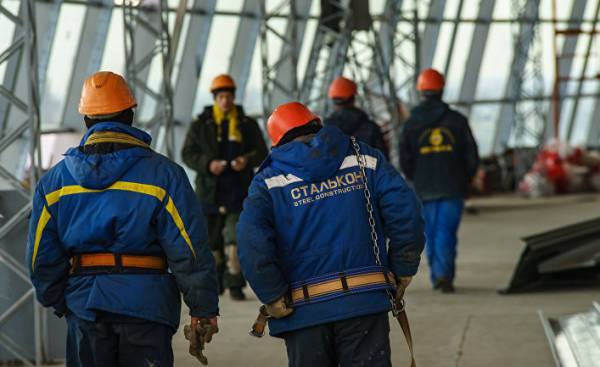 It became known that construction of stadiums in Russia, where in 2018 will host matches of the world Cup, North Korean workers involved. Answering the questions of our newspaper, the General Director of the organizing Committee "Russia-2018" Alexei Sorokin said: "Workers from the DPRK — a little. Their hiring is consistent with the agreement between the two countries. There is no problem." Thus, he acknowledged the employment of citizens of the DPRK.
Apparently will increase criticism due to the fact that the largest international event was used by the DPRK's leading nuclear and missile development, as a means of obtaining foreign currency.
In February this year, the Norwegian media reported that the construction of stadiums in St. Petersburg, the second largest Russian city, it involves a large number of workers from the DPRK, and the bonuses are paid to North Korean authorities. In late may, the British newspaper the Guardian reported that the President of FIFA, Gianni Infantino found out about this issue and demanded that the Russian organizing Committee had responded appropriately.
Mr. Sorokin said that in accordance with report of the city administration, which ordered, third or fourth sub-contractors hired North Korean workers. He also stressed: "the working Conditions are not violated. In addition, it is not contrary to international law."
According to Reuters, in accordance with the report of the United Nations for 2015 in Russia and China employs more than 50 thousand workers from North Korea. It is assumed that the annual income of the North Korean authorities is 1.2 — $ 2.3 million.
The world Cup will be held in Russia from 14 June to 15 July 2018 12 stadiums in 11 cities, including Moscow, Saint Petersburg, Sochi and so on. It will involve teams from 32 countries, including Russia, which hosts the championship. If Japan held the qualifying tournament in Asia, she will take part in the world Cup for the sixth time in a row.
Comments
comments