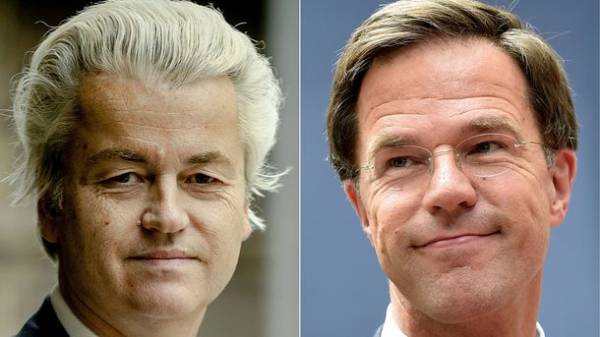 The Prime Minister of the Netherlands mark Rutte and his opponent Geert Wilders met in the televised debates before the parliamentary elections in the country, reports Dutch News.
Parliamentary elections in the Netherlands will take place on March 15.
In the course of the debate, which lasted a little more than half an hour, Wilders called on Rutte to expel the Turkish Ambassador from the country, explaining that any other action would be an insult to the Netherlands. He also called Rutte "not credible".
In turn Rutte accused Wilders that he was "sitting on the couch, using Twitter". He also reiterated previous statements that his party will not work with the "Party of freedom", which is led by Wilders.
Dutch newspaper Volkskrant notes that the debate allowed Rutte to show themselves as "anti-populist". According to the Dutch expert, Roderick van Griken (Roderik van Grieken), Rutte, the debate was better, in particular, speaking about immigration issues.
As noted by the associated Press, Wilders used the debates to highlight their tension against Islam, and Rutte — your leadership experience. During the debate they made no serious gaffes or drastic steps that would have significantly changed the picture on the upcoming election.
How, in turn, said the Xinhua news Agency, the debates did not reveal a clear winner.
According to the results of an opinion poll Agency "Maurice de Honda", leader of the parliamentary election remains the liberal "people's party for freedom and democracy" (VVD), headed by Rutte. Their votes for it are ready to give 18% of respondents, and then the party will be able to obtain 27 of the 150 seats in Parliament. For the far-right "freedom Party" (PVV), whose leader is Wilders, intend to vote the 16% of respondents that will bring the party 24 parliamentary seats.
Comments
comments