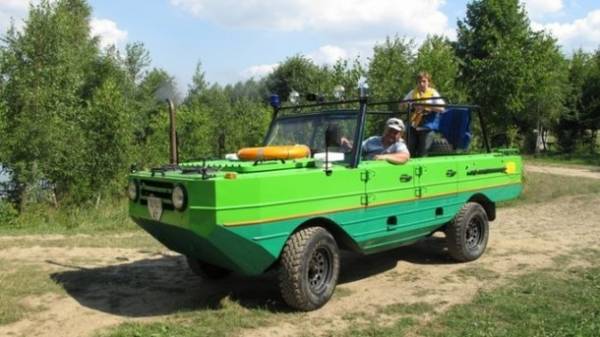 Resident of the village of uhryniv in Ivano-Frankivsk region assembled a unique all-terrain vehicle from old parts and scrap metal, reports Expres.ua.
Roman Slobodian, specialty — engineer-mechanic, but to undertake designing and processing of different mechanisms he was forced to farming. He had a lot of land, and it was not possible to buy new equipment. In addition, the farm ponds have appeared. That's novel and wondered whether it is possible to design a car that would become your faithful companion in the field, on the road and on the water?
Special drawings was not the final variant he drew as best I could. The car from various spare parts and even scrap Roman Slobodian collected. The parts he spent about 120 thousand hryvnias. In the garage, along with a friend came at nine in the morning and finished work at midnight.
However, the result of the painstaking work surpassed all expectations: the self-made transport not only goes 100 miles per hour, but is well kept on the water, giving a speed of 20 kilometers per hour.
The basis of the vehicle was the body of the old military machine, the engine of the tractor and diesel fuel. Flow rate of 15 liters per 100 km In the tank you can pour 120 liters of fuel.
His creation of the Roman Slobodian registered. Recorded the car as a Rover.
Comments
comments