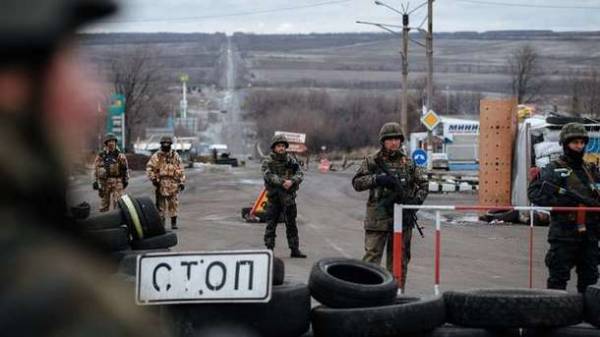 Blockade of Donbass uncontrolled territories has led to the deterioration of the economic situation in Ukraine. The impact of the embargo has affected not yet fully. Data provided by the national Bank of Ukraine (NBU) report on financial stability.
In early 2017 the risks for the real sector [of economy] has increased significantly due to the deterioration of the situation in the uncontrolled territories (GCP). Because of the attacks were regularly suspended the work of the enterprise to the nearby occupied territory. In March Ukrainian companies in NKT captured terrorists, and national security and defense Council of Ukraine imposed a blockade of trade with the occupied territories. As a result, in the first quarter of decreased production in metallurgy and coal industry, in which the highest proportion located in the occupied territories of the enterprises, and also in related industries – mining, electricity production", – stated in the report of the NBU.
Also, the blockade of NKT had a negative impact on the production of mining equipment.
In addition, the NBU stated that in the second quarter, the situation further deteriorated: the decline in industrial production in April accelerated to 6.1% yoy.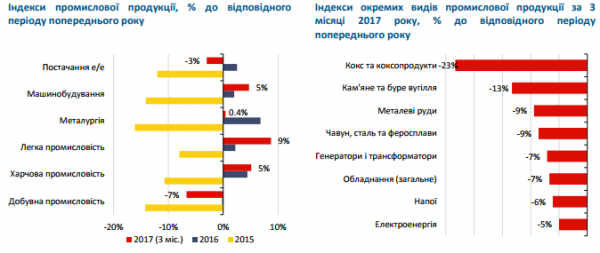 Additional source of risk for metallurgy and related industries represents unstable operation of Avdiivka coke plant, the national Bank noted.
"The company, which accounts for more than 20% of coke production (which determines the production of iron, to a lesser extent, steel), located near the combat zone, so there are often problems with logistics and the production. Interruptions of the work significantly affect the results of the activities of several industries," says the NBU.
Thus, the rise in electricity prices has allowed the industry in the first quarter income increase 29% yoy despite the fact that the production volume decreased by 5%. The necessity of stopping the supply of anthracite from the occupied territories, and eventually from Russia will force the company to seek new suppliers of raw materials abroad.
"Therefore, there is a high probability that the electricity tariffs will continue to grow to offset the high cost of imported coal for thermal power plants", – notes the national Bank.
Thus, blockade of NKT may soon indirectly affecting other sectors of the economy, warns the NBU.
"Given these risks, the main objective of the metallurgical and related industries in 2017 to shift to foreign (except Russia) supplier of coal and coke (to minimize risk of interruption of Avdiivka coke plant), and actively introduce technologies that will help to reduce coal consumption," concluded the national Bank.
Comments
comments