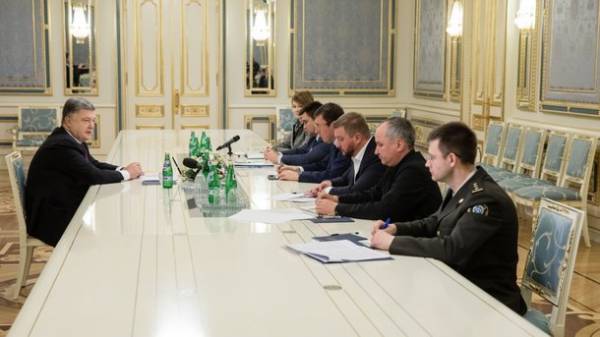 A lawsuit in the international court of justice was the first step of Ukraine to prosecute Russia for the crimes that were committed against Ukrainian citizens in the annexed Crimea and in the Donbas. This was stated by the President Petro Poroshenko during a meeting with the leadership of the Ukrainian delegation at the hearings in the court in the Hague, the press service of the presidential Administration.
"In the International Court of justice our whole team is fighting for a just punishment of those responsible for the death of thousands in terrorist attacks in the Ukrainian Donbass; who supplied tanks, modern artillery, multiple rocket launchers, armored vehicles, ammunition, rockets, which fired at Avdeevka, Kramatorsk, Mariupol, a civilian bus in Volnovakha was shot down MH-17," – said Petro Poroshenko.
The head of state stressed that Ukraine demands to oblige Russia to close uncontrolled border and stop all supplies of weapons, equipment and money to the rebels in the Donbass, and also trained in Russia and sent to Ukraine militants involved in terrorist acts against the civilian population. The Ukrainian side insists on the termination of the occupiers of the oppression of the Ukrainians and the Crimean Tatar people in Crimea and to stop the disappearance of the Crimean Tatars and to investigate the case, to restore the activity of the Mejlis of the Crimean Tatar people and to terminate the established limits for obtaining in Crimea education in the Ukrainian language.
Recall, 16 January the Ministry of foreign Affairs of Ukraine filed a suit regarding the violation by Russia of the UN Convention on combating financing of terrorism and the Convention on the elimination of all forms of racial discrimination international court of justice in the Hague.
In the lawsuit Ukraine claims that the Russian Federation violate the Convention for the suppression of the financing of terrorism by providing arms and other assistance to illegal armed groups who had committed a series of acts of terrorism on the territory of Ukraine. The most tragic terrorist attacks of Russian puppets in Kiev will include the destruction of the aircraft "Malaysian airlines" flight MH17, the shelling of residential areas in Mariupol and Kramatorsk destruction of civilian passenger bus near Volnovakha and a deadly explosion during a peaceful Assembly in Kyiv.
In addition, Ukraine claims that the Russian Federation violates the Convention on the elimination of all forms of racial discrimination, taking part in the campaign of discrimination against non-Russian communities residing in the occupied territory of the Crimean Peninsula, in particular, communities of ethnic Ukrainians and Crimean Tatars. Kiev says that since the illegal "referendum", the Russian occupation authorities pursued a policy of cultural destruction of these communities. This discriminatory policy was condemned by the General Assembly of the United Nations and manifested in a ban the activities of Mejlis of Crimean Tatar people, the wave of disappearances, killings, unwarranted searches, detentions, attempts to stop broadcasting media, as well as to limit the teaching of the Ukrainian and Crimean Tatar language.
Comments
comments