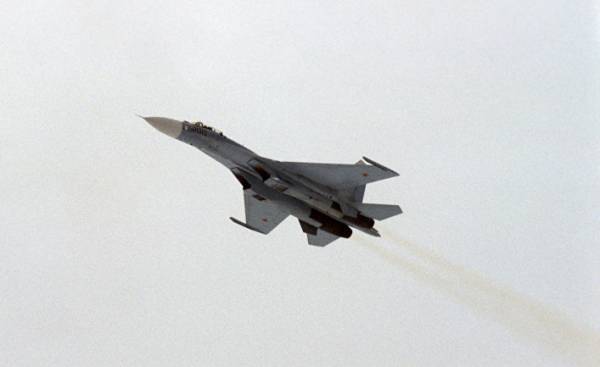 On Monday, a Russian fighter jet intercepted a reconnaissance aircraft of the U.S. air force over the Baltic sea. This TV channel Fox News reported two sources in the official structures. Su-27 armed with missiles air-air, flew 1.5 metres from reconnaissance aircraft RC-135.
One of the sources called flight of the Russian fighter jet "provocative". Su-27 was flying "erratically," said another source. According to one of the interlocutors of the channel, from the beginning of June over the Baltic sea there were more than 30 such "interactions" Russian and American planes, however, this case is notable for the fact that in the United States air force it was considered "unsafe". The incident occurred the day after the statement of the Ministry of defense of Russia about the termination of cooperation with the United States on the Memorandum on the prevention of incidents in the skies over Syria. The decision of the Russian side was taken after the situation with the downed international coalition military aircraft to Syria.
Russian military support of Syrian President Bashar al-Assad. In September 2015, Russia has deployed in Syria, dozens of fighter jets and helicopter gunships.In February, Russian planes escorted by missile destroyers of the U.S. Navy in the Black sea, at the same time, the U.S. delivered dozens of tanks and 500 American soldiers in Romania. Two months later, this is the USS — Porter — struck with cruise missiles "Tomahawk" at the air base in Syria.
Over the past few weeks, the us military took part in large military exercises in the Baltic region, including them, were involved in long-range bombers, the B-1 and B-52 bombers capable of carrying nuclear weapons. Dozens of U.S. warships and their allies took part in exercises in the Baltic sea, Baltops, which ended last weekend. All this happens against the backdrop of heightened tension in relations with Russia.
It is unclear how the us military reconnaissance plane approached the Kaliningrad region — a Russian enclave located between U.S. allies in NATO — Poland and Lithuania. In the fall of Russia deployed in the Kaliningrad region ballistic missiles with nuclear warheads, able to "get" some European capitals.
Comments
comments