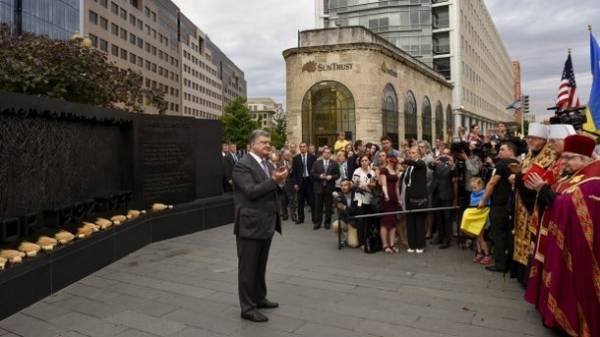 President of Ukraine Petro Poroshenko during his visit to USA held the first meeting on American soil is met with Ukrainian Diaspora, the press service of the head of state.
The President thanked the Ukrainian Diaspora for assistance in confronting Russian aggression.
"Most people in the world knew where the Ukraine, not to mention the famine. And now not to find a person in the world that if we are not loved, not respected and gave tribute to our people. Ukraine has covered a long distance, despite the enormous trials. All that is happening now in Ukraine is in the heart of the Diaspora. We can feel it. And we don't need to seek the assistance of the Diaspora, and so does what he can," – said Poroshenko.
He also stressed that the joint efforts with Ukrainians throughout the world, including in the US, managed not only to stop Russian aggression and not to give to the plan of Putin to restore the Russian Empire. He noted that in three years managed to revive a powerful new Ukrainian army, which has acquired unique experience.
The President also noted that war is not a reason to not implement reforms.
"All of our partners – the U.S., European Union, Australia, Japan, the IMF, the European Bank for reconstruction and development – all claim that we have made more reforms than in the 23 years before that. The government introduced a decentralization reform made huge steps in completing judicial reform, launched the public procurement system ProZorro" he said.
But the main achievement for Ukrainians, Poroshenko said that the introduction of a visa-free regime with the EU. "And it's not just the right to cross the border. This is the final farewell of the Russian Empire and the return of our people to the European family".
We will remind, the Ukrainian head of state arrived in the U.S. two-day state visit yesterday evening. Today he will hold a series of meetings with American politicians, including U.S. President Donald trump and Vice-President Mike Pence.
Comments
comments