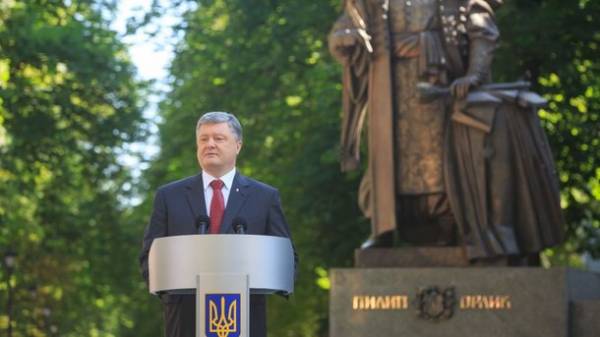 President Petro Poroshenko said that Ukraine defends its sovereignty from Russian aggression and returns to its European home. About this Poroshenko said during celebrations on the occasion of the Constitution Day of Ukraine in Kiev today.
"Today we Ukrainians protect our sovereignty, our independence from the Russian aggressor. We protect not only our land, not just our territorial integrity, we protect democracy, freedom, the will, to assert its European choice. To win in this struggle we are conducting deep reforms," he said.
"Ukrainians through the centuries has carried the understanding of the importance of equal rights, democracy and responsible government. That is the state we are creating. We return, finally, to the European house through the completion of the ratification of the Association Agreement with the European Union, because on June 11, finally, Ukraine has received bezviz not simply as the right of visa-free travel to the EU, but also as a "final farewell" of the Russian Empire, reunited with family, of which has been for centuries. I am filled with pride for our country. I believe in its historical future", – concluded the head of state.
Recall from the 11 of June came into force the European Union's decision on granting Ukrainian citizens visa-free regime for short trips to EU countries and the Schengen area, with the exception of the UK and Ireland.
Comments
comments