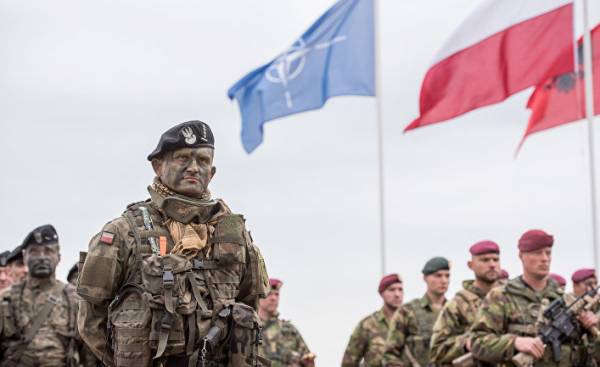 During heavy rain, people from 45 entities have jumped from military helicopters and covered the small forest on the Polish-Lithuanian border. With the support of American and Polish troops of the Royal Marines landed in Suvalkai for the first large-scale military exercises of NATO in the area.
The reason was the fears of Europe, concerned about their vulnerability in case of a Russian attack.
Suvalkija a narrow 60-mile stretch of land sandwiched between the Russian enclave of Kaliningrad, and Moscow's ally Belorussia. He is considered the weak point of NATO on the Eastern flank. If war broke out between East and West, Russia could take the first step to one swift movement cut off the Baltic States from Poland.
As in 2014 Russia seized and occupied the Ukrainian Crimea, Eastern Europe feels increasingly vulnerable. Suvalkija feels it very strongly. This threat led to the deployment in Lithuania, Poland, Latvia and Estonia 4500 NATO troops and also, after the appeals poles — seoi military exercises "saber Blow" under the leadership of the United States. They were involved 1,500 troops. They have to help the main forces in potential combat.
Enemies "Strike of the sword" — fictional botnica, played by officers of the Lithuanian army, but no one doubted, whom they portrayed. Ask the Lithuanians, and they nod to the East, in the direction of Russia, its giant neighbor, which casts a dark shadow on the relatively small Baltic state.
"Turn vulnerable due to geographic location. Of course, it is not necessary that there will be an attack, but… if it is cut off, three of our allies in the North would be potentially isolated from the rest of the Alliance," said Lieutenant General USA Ben Hodges.
It is expected that in September, Moscow will hold its own, much more large-scale exercises in the region, during which, according to representatives of NATO, the transition in the area of Suwalki will rehearse approximately 100 thousand troops.
"It's just a small exercise compared to what would be necessary in the event of a real attack. However, they are important to us because it shows that the allies share our concerns," said Brigadier General Valdemaras Rupsys, chief of land forces of Lithuania.
Sitting on the old Lithuanian and old army base that served as a camp for British troops, major Simon Cox explained that his men, along with other servicemen from the U.S. and Poland were to regain control of key road linking Lithuania with Poland. Its notional "enemy" took about 12 days ago. After regaining control they had to hold until then, until a convoy of British and American cars.
To regain control of the road, the Marines had to carry out a night attack through mosquito-infested swamps, forests and agricultural land, typical of the countryside of Suvalkai, and attack unit, which, according to major Cox, was going to hone your defensive skills. "Lithuanians do not support our exercise: they are to hold their own, he told The Daily Telegraph the day before the start of the exercise. They are not interested in our work release or surrender."
Comments
comments