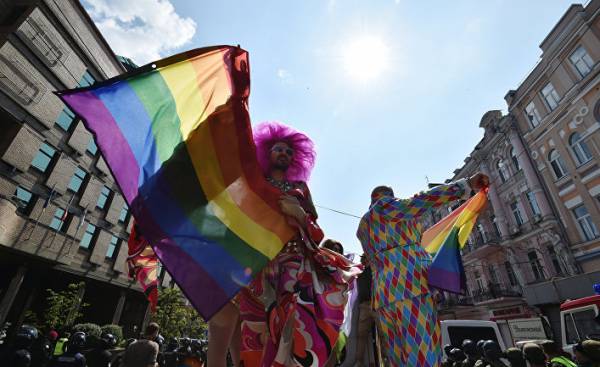 In Mariupol, the parade was a neo-Nazi, the Deputy Minister of internal Affairs of Ukraine Vadim Trojan. Through the streets marched soldiers recognized by the U.S. Congress of the neo-Nazi military formation of the regiment of the interior Ministry of Ukraine "Azov". They went under flags with Nazi runes "Wolf hook", kept in the hands of neo-Nazi paraphernalia — Thor's hammers.
In Kiev on the March brought together representatives of the LGBT, they marched under the slogans "Ukraine for all", tried to promote European values. To avoid being torn to pieces by the supporters of neo-Nazis, members of the LGBT guarded by police.
These two flights represented the two parts of the Ukrainian establishment, the two dominant project of development of Ukraine. First, the nationalist project, based on the glorification of the UPA (of extremist and banned in Russia organization — approx. ed.), neo-Nazi military formations, forced Ukrainization, the fight against the celebration of may 9. This project is a neo-Nazi, the Deputy Minister of internal Affairs of Ukraine Vadim Troyan, Azov regiment, the head of the Institute of national remembrance Vladimir viatrovych.
The second project Ukraine is a European oriented political project "Ukraine is for all". Behind it the President Petro Poroshenko, Kiev mayor Vitali Klitschko, a broad Pro-European coalition political and public forces, including the LGBT community.
Westerners openly put a challenge to the leadership of Ukraine of becoming narrowly nationalistic project in broad political. Under the Brussels adopted a decision on the accelerated European integration of Ukraine, introduced bezviz. But both among the project spark: the neo-Nazi attack on LGBT people evidence.
But there is a third Ukraine, which was presented at the third parade "Immortal regiment" on may 9. It relies on emerging in the country "most of the 9 may". The fact that this year, the UNIAN news Agency, hoping to support the readers ideas of Viatrovych about the cancellation of the may 9th celebration, conducted a survey about the attitude of Ukrainians to the 8 and 9 may. The results were sensational: 80 percent were in favor of may 9.
The participants of the parade "Immortal regiment" for Russia, some of them fought in the ATO. But it's another Ukraine, not narrowly nationalistic and non-LGBT-European.
Here are three ways of development of Ukraine, and we see that the three parades of neo-Nazis, LGBT and "Immortal regiment". Which way Ukraine will go, time will tell.
Comments
comments