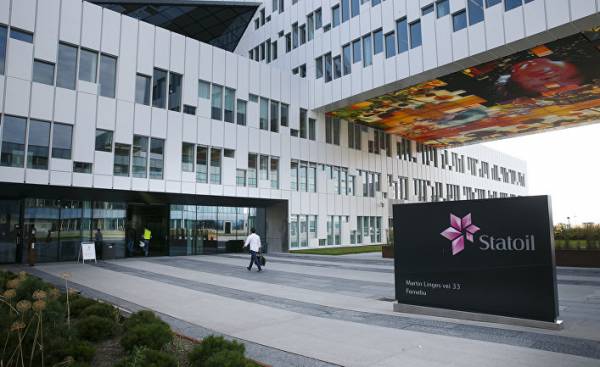 "Norway should ensure energy independence of Ukraine from Russia", — reported the Russian media a few days ago. Politics and Economics mixed up in the fight for gas buyers.
When the Prime Ministers of Denmark and Poland met at Christiansborg Palace in Copenhagen on Friday, 9 June, menu negotiations were Norway, to be exact — Norwegian gas.
After the talks the Prime Minister of Poland Beata Szydlo (Beata Szydlo) and the Prime Minister of Denmark Lars løkke Rasmussen (Lars Løkke Rasmussen) shone. State leaders agreed to build a gas pipeline "Baltic Pipe", by which gas will be delivered to Poland and Ukraine, and it will be an alternative to supplies from Russia.
The news aroused great interest in the far East, Moscow and Kiev.
"A direct pipeline to Ukraine will be a reality in 2022," — optimistic, wrote the press Secretary of the Ukrainian energy Minister on his page in Facebook.
"Norway should ensure energy independence of Ukraine from Russia", — reported the Russian media.
Big politics and fierce competition
The struggle for the European gas market is seriously deteriorating.
For Norway and Russia at stake are hundreds of billions of crowns, which go to the state budget of these countries.
For Putin, gas exports, in addition, is an important weapon to ensure the interests of Russia in neighbouring countries, primarily in Ukraine.
For Europe and the EU we are talking about the future of energy supply, on the lowest price and independence from Russia.
USA, Qatar, Algeria and gas producers around the world ready to put ever-cheaper liquid natural gas which can be transported on sea vessels (LNG-gass).
The new way of Russian gas to Europe
Russian exports to Europe has made a new gas pipeline "Nord stream — 2" one of the most important projects of President Vladimir Putin.
Russian Gazprom and European energy giants Shell, ENGIE, OMV, Uniper and Wintershall will build a new pipeline amid strong protests from the Baltic States, Ukraine, Poland and Sweden.
At the same time gaining the strength of another competitor. Last week to berth in Poland moored first American ship that delivered liquid natural gas (LNG), purchased at a low price and produced from us shale gas.
And on Wednesday this week in case truly joined big-time politics.
Us sanctions
The U.S. Senate adopted new sanctions against Russia, which focused primarily on the "Nord stream — 2".
If they're approved by the House of representatives, this step will have a big impact. Stocks in Moscow fell by 4.2%.
In Berlin, Merkel accused the US that they mixed politics and economic interests:
"Energy supplies to Europe — it is Europe, not the United States," — said in a dramatic joint statement, the foreign Minister of Germany, Sigmar Gabriel (Sigmar Gabriel) and the Chancellor of Austria, Christian Kern (Christian Kern).
"Unacceptable to us threat of imposing illegal sanctions against European companies."
Russia and Norway
Despite the extremely bad climate for political cooperation, the war in Ukraine and tensions in Russia's relations with the West, Russia in 2014 increased gas export to Europe.
"Next year, Gazprom's exports to Europe grew by 13.3%," — said the head of Gazprom Alexey Miller at the International economic forum in St. Petersburg.
At the same time, President Vladimir Putin chose a little kick, Norway, its competitor in the gas market.
"What is the source of energy resources in Germany? Reserves of Norway will soon end," Putin said.
Putin says it's not just. It is based on the fact that Statoil is focusing on cooperation with Rosneft in the hope of getting the opportunity to participate in future oil and gas fairytale Russia.
Statoil in anticipation
Despite the optimistic reaction in connection with the pipeline "Baltic Pipe" in Kiev, Copenhagen and Warsaw, the situation is much more sober in the office of Statoil in Stavanger.
The Danes and the poles had previously twice failed due to bad profitability.
"In the case of the project we would be interested to see what the business perspectives it can open for our gas industry," writes in an email to newspaper Aftenposten, the head of Statoil's public relations Elin A. Isaksen (Elin A. Isaksen).
However, Statoil does not agree with the gloomy analysis of Putin and believes that Norwegian gas is still competitive.
"We have large reserves that we can supply Europe," says Isaksen.
She pointed out that, in the opinion of the Norwegian authorities, Norway has used only a third honor of their gas resources.
Not particularly good prospects for Norway
In 2014 and 2015 the concern Statoil has put the Ukrainian gas company Naftogaz via Slovakia, 5 billion cubic meters of gas. Last year, the Ukrainians decided to buy gas from other sources.
Both Russian and Norwegian experts believe that Norwegian gloomy prospects.
In addition to competitors in Russia, USA and Qatar, there is cheap coal. In addition, the emergence of new technologies, clean energy solar and wind is becoming more acceptable.
"As for Norway, it doesn't look very attractive, although the agreement of Poland and Denmark is a bright spot," says chief analyst at Nordea Tina Saltvedt (Thina Saltved). She also pointed out that the EU hesitates and is not able to determine what is important — cheap energy and independence from Russia.
"Norway has failed to provide a convincing concept that Norwegian gas is the solution".
We have a very big problem
Russian expert on energy issues at RusEnergy Mikhail Krutikhin calls the "Baltic Pipe" an interesting project.
"The price is not high, and the project will give Europe more energy independence. But I don't know how much gas Norway can supply in the long term," says Krutikhin.
He also believes that Gazprom can use the gas pipeline "Baltic Pipe". When the pipeline is built, it will be possible to supply gas from Russia.
"Although Gazprom is currently considered a "bad guy", the fact is that the market in Europe choose who supplies cheaper than all. Gazprom currently sells at a very good price," says Krutikhin.
Disappeared gas tale
Norwegian and Russian experts point out that Norway and Russia is one big problem: the Europeans weakly increase the consumption of gas.
"Everyone expected that growth will resume gas supplies. And now we see that the result of this competition about it is absolutely impossible to speak with certainty," says Saltvedt.
More clean energy tempts Europe, and the price of energy production from wind and solar go down.
In addition, according to Krutikhin, in the United States, Australia, and Qatar's growing liquefied natural gas production.
"European customers can anywhere buy liquefied natural gas. Offers on it too much."
Affect whether new U.S. sanctions on Norwegian oil companies?
The Ministry of foreign Affairs says that while early to speak about that possible new sanctions against Russia will adversely affect Norwegian companies:
"The Norwegian authorities are monitoring the situation with restrictive measures in the U.S. and other countries, in particular through cooperation with our partners in Europe. The purpose of the Norwegian business is compliance important Norwegian interests in this work. We, however, careful in reasoning about the consequences of possible new restrictive measures", — writes an employee of the foreign Ministry Department for relations with the press March lehrberg, Bavaria Kopstad (Marte Lerberg Kopstad) in the email. She emphasized that the first sanctions discussed in the House of representatives and then the President is taking Donald trump.
Comments
comments