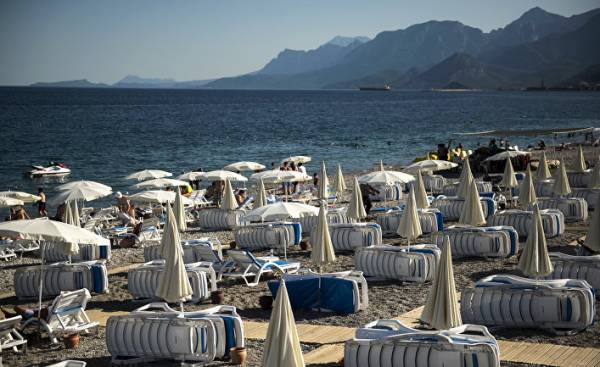 In a Moscow Park "Krasnaya Presnya" was held a three-day festival of Turkey.
Visitors to the festival organized at the initiative of the Federation of Turkish hoteliers (TÜROFED), with the support of the Ministry of culture and tourism of Turkey, the Association of investors in tourism (TYD), the Union of travel agencies of Turkey (TÜRSAB) and the Association of hoteliers of Turkey (TÜROB), and with the assistance of the Turkish Embassy in Moscow and the Moscow city administration, had the opportunity to experience the culture, history and traditions of Turkey.
The festival was presented to the regional features of many tourist resorts in Turkey, the tourist wealth of such cities as Istanbul, Antalya, muğla, Izmir, aydın, nevşehir, Gaziantep, Adana, Mersin.
The Turkish Ambassador in Moscow Hussein Dirioz (Hüseyin Diriöz) commented for the first time held in Moscow event in a conversation with Sputnik: "I can see that the festival of Turkey, which was first held in Moscow in this scale, very well organized. I see that Moscow residents are showing great interest in this event. Of course, we would like to see them in Turkey, but sometimes we have the opportunity, and we brought the Turkey here. This is an important area for convergence of the peoples of Russia and Turkey, to strengthen Turkish-Russian friendship. I'm glad to see such an event in Moscow. Of course, our relationship is not only tourism, one aspect of interpersonal relationships. I wish this event benefited our relations, both sides, from all points of view. In my opinion, the festival was successful."
Board member of TÜROFED, head of the Association of hoteliers and tour operators in Cappadocia (KAPTID) Yakup Dinler's (Yakup Dinler) said: "Yes, this event was first held TÜROFED, TYD, TÜRSAB, TÜROB and the Ministry of culture and tourism. On the first day of Moscow welcomed us with little rain. But the last two days were very Sunny. We counted on 200 thousand visitors. I understand that today we will reach this goal. Overall the event was very successful, despite the fact that it is held for the first time, despite some minor flaws — after all, this is the first experience, and the examples he previously was not. We drove from Cappadocia together with our head of regional Department on culture and tourism and 12 representatives of the tourism sector, including hoteliers and operators of balloons, and operators of sales. We are very pleased with the work and this event. We and the representatives of the Ministry, and TÜROFED — I agree to conduct it every year. We are pleased with the interest that, to date, the Russians and residents of Moscow have shown to us."
Comments
comments