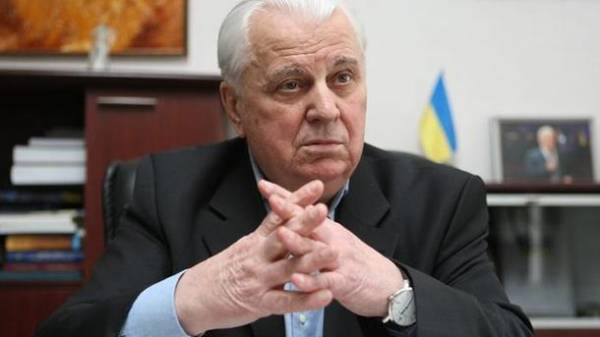 "The Minsk format" is not able to resolve the situation in Donbas, so it needs to change and expand the number of its participants. This opinion was expressed on air of TV channel "112 Ukraine", Ukraine's first President Leonid Kravchuk.
He believes that Ukraine made a mistake that agreed to participate in negotiations on Donbass in Minsk representatives of the so-called "DNR" and "LNR".
"We were in a "Geneva format". I think Putin urged German Chancellor and the French President, and others to this format to transfer to Minsk, and convinced a very simple interpretation: they say, if you want to make a decision, it is necessary that there were representatives of "DNR" and "LNR". We are unable politically and diplomatically to provide that, taking these people in Minsk, has said that we have an internal war. That is, we have a civil war between the people who represent Ukraine and those people who came from the occupied areas. And Russia immediately began to speculate on that, saying that she is there the observer, she is not actively involved, it helps us. Therefore, the format of Minsk, in such composition and with such a philosophy can not resolve the basic question of principle – to return the territory of Ukraine Ukraine, to restore borders and to establish the Ukrainian government in all territories. This format it will not solve," – said Kravchuk.
In his opinion, it is necessary to change the status of the "Minsk format" and expand the presence of its participants.
"The extension must be participants and raising the status of those who take part in it. In the "Norman format" will take part the head, but the channel format accepts nothing he has not adopted any document that could be read. He sends some thoughts to Minsk, and Minsk are making decisions that do not sign the heads of States. This format, the Minsk, is a forced position of Ukraine. Ukraine somewhere in the time was wrong, and it is used. And now we are stymied. We have to say that this format is necessary, that without it it would be even worse, and it's true," – said Kravchuk.
Earlier, the Polish foreign Minister Witold Waszczykowski said that "Norman" and "Minsk" formats has led to the establishment of peace in Ukraine, so they need to change.
In turn, the President of Ukraine Petro Poroshenko urged not to believe those who sharply criticized the Minsk agreement. He stressed that Ukraine has adhered and will adhere to the Minsk agreements and to do all it can to de-escalate the situation until the complete cessation of fire. "Now on the road to peace and restoration of territorial integrity, such an approach is absolutely no alternative".
Comments
comments