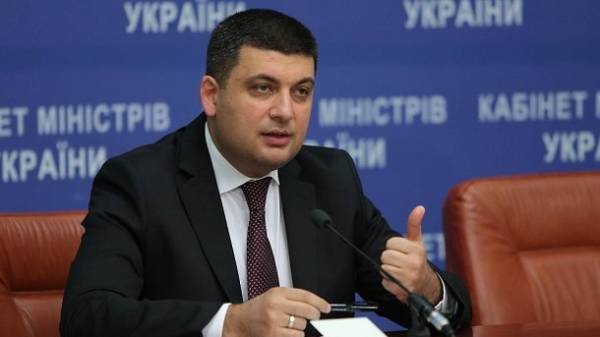 Ukraine has lost from the unauthorized power of the blockade of uncontrolled territories of Donetsk and Luhansk region of 1% of GDP, and it is important to prevent the recurrence of such attempts, including the blockade of rail traffic from Russia, Prime Minister Vladimir Groisman.
"From the siege that happened, Ukraine has lost 1% of GDP is hundreds of million, billions of hryvnia, which could go to wages, on strengthening of national currency", – said the Prime Minister at the selector meeting on preparation for winter in Kyiv on Monday.
"Makhnovism is the worst way to go out… From such actions no good", – added the head of government.
He stressed that the blockade of the tubing resulted in the loss of control of all assets in the tubing, and now, instead of payments to the Ukrainian budget, taxes and other payments will be used to support combat actions of criminals.
The issue of the blockade on the selector lever has arisen in connection with the request of the head of the Sumy regional state administration Mykola Klochko about supporting law enforcement officers in connection with the proposed deputies from "Samopomichi" in the coming weekend of action to block train deliveries of coal from Russia. According to the head region, these actions should not divert attention from the problems of the Lviv garbage.
"I fully support the position of the Ministry of interior and the Minister: the national police would adequately and fully respond to any blocking and the violation of the laws. On your side law: if someone is breaking the law, you should immediately respond," – said in response Groisman.
According to him, the deputies instead of blocking needs to introduce draft laws, "and not to go and make himself a criminal." "Should bear political responsibility to that power from which this Deputy was elected," he said.
Comments
comments