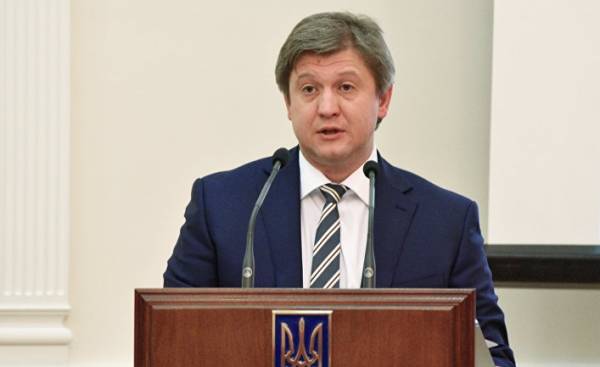 The American Interest: Welcome to Washington! First, let me ask, what is the purpose of your visit to the United States.
Alexander danyluk: I came here to participate in the spring meeting of the IMF and world Bank — one of the major events of the financial world. We have quite a full schedule: we meet with representatives of the IMF, world Bank and private investors. I take part in these meetings because we are going to return to the market after a few years break. This is part of the IMF program for assistance to Ukraine, but, more importantly, any normal state must have access to markets and to attract financial resources when necessary.
— Whether the bonds are denominated in dollars, Euro or hryvnia?
— This will be the standard Eurobonds.
— Not so long ago you had problems with some debt to Russia, which were not restructured. This issue has been resolved or is it still hanging over Ukraine and capital markets?
The so — called Russian debt. As you know, a London court ruled in favor of Russia, but we filed an appeal. We continue to defend our position, and we have good reason to believe that we will win.
— While you are in Washington, you have already met or plan to meet with someone from the administration trump?
Yes. Of course, the main purpose of this trip is to meet with representatives of the IMF and the world Bank. But while I'm here, we are planning to meet with members of the administration trump — for example, with U.S. Commerce Secretary Wilbur Ross (Wilbur Ross). We have also scheduled a meeting with several members of the National economic Council. I guess we'll have to come again to hold additional meetings. It is imperative for us to maintain contact with the new administration, because we really need the help of America.
— Several years in Ukraine recorded a negative economic growth. Recently, the situation has changed, although now the growth forecasts again, a little lower. What growth forecasts by the Ukrainian government — about 1.9%?
For 2.2%.
The annexation of the Crimea and of our industrial areas in the East of Ukraine has had a powerful negative impact on our economy, especially when you consider that before Russia was our main economic partner. For two or even three consecutive years, our GDP decreased.
But since we have shifted to other markets, and conducted reforms that helped to achieve some growth. Of course, we are not talking about rapid growth, but now the important thing is that we managed to reverse the negative trend. Last year it was 2.2%. This year we could count on a 3% or even more. But then Russia seized part of companies in uncontrolled territories, and we retaliated. This has set us back a bit. As a result, we reduced our growth forecast to 1%. So this year again we forecast growth of 2.2%. We make every effort to compensate for this.

— If you look at the progress of Ukrainian reforms in the last two years, what, in your opinion, was the most significant achievement?
— The most difficult decision was the nationalization of the largest Ukrainian Bank — PrivatBank. It's not really a reform, but we spent on this process a lot of time and effort. This decision was quite risky, because a lot of PrivatBank depositors — 22 million.
Now the population is about 42 million? Quite a large percentage.
— Yes, very significant. And this is only the size of the Bank. Its share accounted for 70% of all payment operations in the country. More importantly, it was owned by two oligarchs, who controlled several news agencies and had shares in other companies. The decision to nationalize this Bank was very difficult.
We worked together with the National Bank, the Prime Minister and the President. And, despite the complexity of the process, we have tried to minimize the risks. Now the Bank owned by the government, and the Minister of Finance is a shareholder. Unfortunately, now the Minister of Finance owns 55% of the banking system. This situation is undesirable, isn't it? Our goal was different. The next task is to figure out how to use the state share in the banking sector. For this we need to work more.
As for reforms, I can say that while we did not bring any reform to the end. I believe that a reform process is not enough: the reforms must produce results. But we're pretty far advanced in the fight against corruption. In particular, we have created a new anti-corruption framework — can say that this process we have completed. We began in 2014 with the creation of an entirely new Agency — the National anti-corruption Bureau (NAB) — because none of the existing law enforcement agencies could not take on this function. Some organizations simply impossible to reform. So we created a brand new organization, but it took some time to make it work as it should.
Secondly, we have created the National Agency for countering corruption. While the NAB investigates specific cases of corruption, this Agency analyzes the information from the Declaration of assets, conflicts of interest and financing of political parties to prevent corruption.
The last component of this structure was the introduction of compulsory electronic Declaration of assets for senior officials and civil servants. It was an unprecedented step, which was decided only a few countries. These three elements are gradually beginning to bring results.
In the course of investigations of corruption we found out that the courts are creating something similar to the bottleneck — I'd say the real barrier. Even if the National anti-corruption Bureau collects a sufficient amount of material, the case may still become stuck in court. It significantly reduces the efficiency of the entire system. The next step will be the creation of a special anti-corruption court — we scheduled it for early next year. This should be the final step in the process of building anti-corruption infrastructure.
What are the results? Recently, the NAB arrested the head of the state fiscal service — it was the most senior official arrested them on charges of corruption. This case should be a clear signal of the seriousness of our intentions.
Meanwhile, we carry out reform in the energy sector, which we have not yet completed. We will need to make many changes, so we can achieve our goals, but until we do, the market does not work in normal mode.
I'm also working on fiscal reform, but we will not be able to complete it before the end of the year. Last year we started a kind of pilot program. We laid in the budget process basis of the reforms of health and education. These reforms should be considered in the budget process, otherwise we will not be able to spend.
Typically, the budgeting process was as follows: we have received requests from various ministries, then fold them and said, "Okay, we don't have enough money to meet all of your requests, so let us somehow to cut spending". This time we did it. We've gathered the representatives of ministries and asked them, "What reforms do you want to spend? We are ready to Finance only reform. You want to reform healthcare? What you want to change health, and how can we help you?"
There were those who told us, "we are all great we just need the money to Finance our Institute". Their program, we cut in the first place. This year we will try to enshrine this approach in law, it does not look only a temporary whim of the Ministry of Finance. He will be enshrined in the new budget code. We will also move to a three-year budget, because no one reform can not be completed in a few months or even a year.
— When the Americans are trying to understand what is happening in Ukraine, most of them are surprised that now in your country there are very powerful sources of resistance to reform — sometimes even within state institutions. Since 1990, the Ukraine was already three revolutions. The impression that the French thought their revolution much more carefully.
— They had the guillotine! But the EU banned the guillotine.
— Sometimes, instead they use light poles.
— Turkey is trying to get back to that point.
Exactly. But is the Turkish variant of the suitable Ukraine? Seriously, the impression that the Ukrainian government still can not change themselves, not to mention the reorganization of society. Why this process is so slow? Why so many revolutions failed to bring about serious change?
— The state cannot reform itself. People need to choose the right leaders, those that reformed the state, and then maintain the position of these leaders. Not all reforms are painless. Some reforms are unpopular and painful.
— What are the most unpopular and painful reforms.
Now the most difficult reform, which we intend to undertake, will be pension reform. Many countries have already passed through it. Ukraine — yet. It is constantly postponed.

Pension reform never entails the increase of pensions. As a rule, after her retirement reduced.
— In fact all the unpleasant elements of this reform will be offset by an increase in the size of pensions, because it is extremely important to offer a balanced option.
In early 2014, people were ready to accept any reforms. They understood the importance of reforms they saw happening before their eyes change, they were ready. But three years have passed, and their patience is coming to an end. So now we need to take extreme care in carrying out such reforms. We cannot again leave it, that would be wrong. It is necessary, and it needed many years ago. We must do it. We are not populist, we — people who are willing to reform and who want to be proud of their results.
But that this reform is adopted, it should be fair and transparent. Even if people don't like something, they take it, if it seems fair. Under the current system one worker can receive a pension that is higher than the pension of his colleagues, or maybe to retire early. But why? This is wrong. Therefore, we will increase pensions to balance the difference.
— At what age usually retire in the Ukraine?
Now the retirement age for men is 60 years, for women — 58 years.
— A lot of Americans might want to emigrate to Ukraine.
— The bad news is that every year the retirement age increases by six months. If we had to advertise themselves, I would say: come to Ukraine now, because in a year the retirement age will be 58 and a half years, and the year after 59 years.
— What is the average size of pension on which people can rely?
— The minimum size of 2.4 thousand hryvnias — it is less than $ 100. The average size of pensions will amount, I believe $ 120.
— Again, to the Americans it was clear. How much money is needed to live in Ukraine?
— One retired to live very difficult.
— This pension replaces the person into poverty?
— More on the border of poverty. But it's too bad. Many retirees are forced to continue to work, and they often help members of their families. Of course, we want to increase pensions. But the state of our economy does not allow us to do it.
I want Americans to understand what is now in question, because it is quite difficult. In the reform period, the prices of many goods are rising. Reform in the energy sector will lead to higher prices for heating and gas. How much will prices rise? Face whether pensioners receiving the minimum pension, so that as a result of reforms, the cost of rental housing will increase? How it will work?
— One of the positive features of Ukraine is that rental housing is not too common, because the majority of Ukrainians live in their own apartments and houses.
That happened after the collapse of the Soviet Union?
— Yes, almost all apartments were privatized. With regard to utilities, gas is a serious problem. Many of the homes were built at a time when Russia supplied gas to the Soviet republics.
— At a very low price.
— Yes, at a very low price. Then nobody thought about how to build energy efficient housing. After the collapse of the Soviet Union, the utility bills were high in the case, if the government did not provide subsidies. Therefore, the state for many years subsidized gas. As a result, nobody cared about the rational use of energy, because if gas is cheap, why save it? Meanwhile, we are still dependent on Russia, and because of the subsidies we were losing money. After taking last year's decision to move the market price of gas is our gas company, Naftogaz, which incurred losses due to inefficient pricing policy has finally begun to generate income. This does not mean that people pay the market price for gas — but not always. We provide targeted subsidies.
— We are talking about subsidies to specific families?
Exactly. We provide grants to families who need it — and need them many. Therefore, we ask the question, "what changed?" We changed a lot. Now people are interested to save, and the number of those who need subsidies, will decline. But currently we are trying to implement tools for promoting both the rational use of energy and increase the level of gas production. Everything will happen at the same time.
Here is an example of the action of the old system. The man who owns the house with an area of 1000 square meters (there are such people), and the person that owns the apartment with an area of 50 square meters, paying for gas at the same rate. The amount of money that the government spends on subsidizing gas for a home of 1000 square meters, enough for several hundred children. It was just unfair. And all this was funded by taxpayers ' money.
Due to the economic downturn and structural changes in the average level of consumption in Ukraine has been declining for many years. How sharp was the decline in the standard of living of the population? I would like Americans to understand what happens to people in Ukraine.
And again, I now have no accurate statistics. Can assume that the average level of consumption has fallen by about a third since the start of the conflict in Eastern Ukraine. It's a pretty significant reduction.
— How does this affect the political situation, and whether it affected the level of political support for reforms? Because people may complain that, despite the huge number of revolutionaries and reformers, every year they live worse. Does that create any political problems for the government?
Unfortunately, it is inevitable. In Europe now there is the rise of populists, and they try to play on the dissatisfaction with the reforms. But there is no other way. If the reforms long postponed, it will ruin the country, because, even if later there will be people who will want to spend, by the time people do not want to put up with hardship, and the country will begin to collapse from the inside. Of course, we wanted to achieve more over the past three years, but now we have what we have.
We are preparing to conduct two major reforms that cannot be delayed any longer — the pension and market reform. They must hold, otherwise the people in a couple of years just will not be able to receive a pension. Since the current system is unsustainable, the rejection of reform is like a game of hot potato: we'll just pass the problem to their successors. We can't afford it.
— What keeps you awake at night, when you think about Ukraine's future or about the future of his reform program? What bothers you the most?
— A better question would be, what keeps me awake in the morning, because often I stay in the Ministry until late at night. For the few remaining hours of sleep, my brain continues to work, and I often Wake up in the morning with a ready solution.
My biggest concern is that we may lose the window of opportunity for reform. Of course, this is not the end of the world — I do not believe that in this case we have a choice, "let's do it now or lose the country". I believe that our duty is to make life of Ukrainians better. If we fail to do this now, soon the opportunity will appear again, but we will be weaker, and many people are now left without our help. It worries me. I am very glad that we can finally carry out pension reform after years of talk. Populists call it disastrous, almost suicidal, but that's nonsense. Our reform is a step to responsible government.
— That can make your work at this position successful? What signs should I pay attention if I want to evaluate the performance of the administration?
— You mean the government or the Ministry of Finance?
— The Ministry of Finance.
— We are not a typical Ministry of Finance. If we consider the regular work of our Ministry of Finance in the narrow sense, it will include tax reform, reform of state tax services, preparation of interim budget, creation of Department of financial investigations and the abolition of the tax police, a repressive relic of the past. Quite a small range of tasks.
But we're not just about this. I put together a team of reformers who worked in other areas. For me it is extremely important that we began health care reform this year or next. This year we will achieve progress in the reform of the education system. In the past year we have taken some interesting steps, including a few changed the procedure for payment of scholarships to students. You can imagine such a thing? We dared to press the active part of the society. We said, "Look, 70% of you will no longer receive a grant."
— Just don't tell American students, otherwise they will also require a scholarship.
— As a student, I also received a scholarship some time, so personally I am not against scholarship. But no one took into account how well students learned. So we split them up. Now a limited number of students receive academic scholarships, which encourages them to learn better, and the majority receives social allowance. We tested this system last year and encountered resistance. People said, "How could you have a go? Students can not touch it. They are very active part of the society. All will hate us". But even the students supported us because they think about the future. Don't underestimate people.
— The last question. What would you like to receive from US. I suggest you to not answer only from the standpoint of the Minister of Finance, but also from the position of member of the government. What Ukraine wants from US?
I have no Christmas wish list. I believe in Ukraine's potential, and I think we should handle this job. But there are areas where we really need help. For example, the situation in the East of the country. Although we have made every effort to reform our army, our military lacks the training and weapons to confront the much stronger Russian army. Sometimes our institutions also need support. For example, we would not be able to create the Department of financial investigations (which will soon begin its work) and the National anti-corruption Bureau. We just don't have enough experience. To take such steps quickly and successfully, we need help from the us government.
In addition, we received financial aid, but it will suffice for a short period. I believe that by 2018-2019, we will confidently move towards a self-sufficient economy. But Europe is going through now, so there is now quite difficult to find political support. We still need that the United States has maintained sanctions against Russia and tightened them if Russia will again go on the offensive. It really helps, because the Russian economy is suffering from sanctions. Sanctions change Russia's behavior.
Thank you for the interview.
Comments
comments