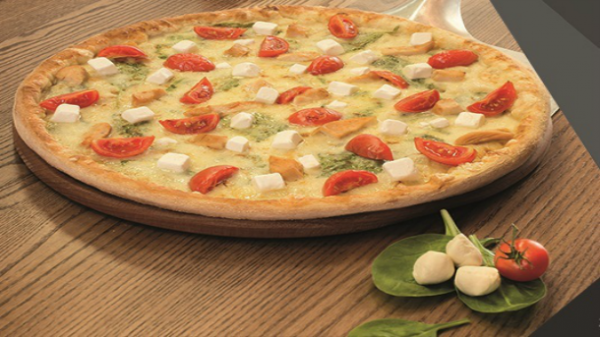 Enjoy authentic Italian pizza, cooked in ovens, offering the people of Kiev pizza chain Domino's Pizza. Now a hearty dinner for the whole family or a feast for a romantic evening is easy to arrange without leaving home. It is sufficient to place an order by phone or on the website, so after half an hour taste the lovely pastries, delivered right to the door.
The most popular pizza and novelties with original toppings
Despite the fact that pizza is available in numerous institutions of the capital, the dishes from the Domino's Pizza remain ahead of the competition. The reason for this is constant quality ingredients and efficient service, allowing you to make order at any time of the day. In the presence of more than a dozen variations of pizza prepared according to a unique recipe presented on the site in order of popularity. This is a delicious Margarita with 280 grams of the best cheese, the famous Pepperoni, exotic Hawaiian, vegetarian and many more.
To select products on the home page, look to the tab of the same name, which presents:
The name of the pizza, indicating the weight, size and composition of the filling.
All the options of toppings that you can choose to order a pizza, choosing products to your taste.
Price with delivery.
Ordering is one click, then enters the "Box" and is available for tracking.
European service: fast delivery to any district of Kiev
Order attractive dishes prepared according to Italian recipe is now easier than ever. After passing the instant check-in, customers get the ability to track the status of your order to schedule the time waiting for the courier. The specified status will tell you as soon as mouthwatering pastries will be on your Desk:
In the process — wait for order confirmation.
Makeline — there is a tab of toppings.
In the oven — started baking, takes only 8 minutes.
In the box — control Department checks the quality of meals.
In the road — the courier with the order goes to the specified address.
Using Domino's Pizza Tracker, club members can get all the necessary information in just seconds that will allow you to continue socializing with family and friends. The program operates in real time 24 hours a day to make the service even more comfortable and convenient for each customer.
Comments
comments