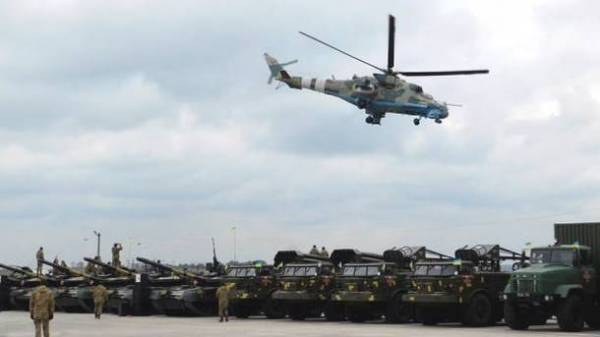 Over the past three years Ukraine has created many new types of weapons as a response to Russia's hybrid war, reports the press service of "Ukroboronprom".
In the state noted that during this time he created the combat modules for armored vehicles, missiles, artillery systems, including rocket launchers, drones and radar systems.
The unmanned APC Phantom: controlled via a secure radio channel or the wire, the length of which is 5 kilometers. Armed with machine – gun 12,7 mm and anti-tank missiles. Unmanned armored car is equipped with day and night scopes, therefore able to fire at any time of the day. In addition, the Phantom can carry ammo and evacuate the wounded.
Antonov an-132D: designed to fly on short and medium-haul routes. Will perform a wide range of problems in transportation of goods. The plane will have a cruising speed of 500 km/h and a maximum cruising altitude of flight up to 9 thousand meters with a maximum payload up to 9.2 T.
Infantry fighting vehicle BMP-1УМД: can be used for various combat units. In 2016, the presence of representatives of the Ministry of defense held a comparative test module "Squall" and "Stiletto". "Squall" is equipped with 30-mm gun ZTM-1 automatic grenade launcher, 7.62 mm machine gun and guided missile armament, which is designed to destroy enemy armored vehicles at a distance up to 5 km "Stiletto" is equipped with a cannon ZTM-2, enhanced reservation and the same set of weapons. For precision functioning of combat units meet the new digital sighting systems OTS-20.04-01, which is equipped with a laser range finder and thermal imager.
Also in the "Ukroboronprom" noted modernized tanks T-72АМТ. For additional protection the tank is equipped with anti shaped-charge grids that are "cut" of cumulative ammunition and protect the most vulnerable areas of the car in the side and stern projections. In the course of modernization of the tank was equipped with night vision devices and modern electron-optical converters of the third generation. Such devices are installed for all crew members. New Turkish radio stations.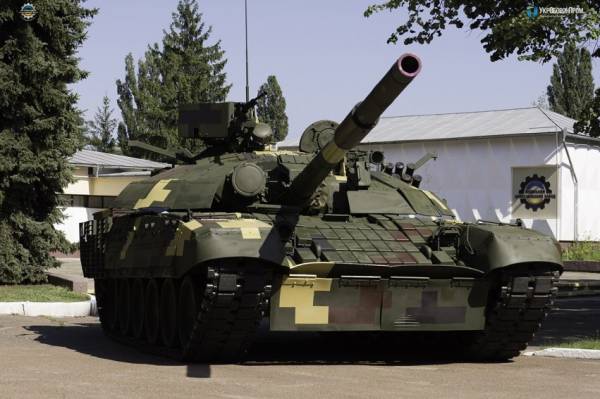 Drone "Turtledove". Multifunctional in addition to reconnaissance equipment, "the Turtledove" is the possibility of equipping high-precision means of defeat. At the same practical distance flying attack drone will be over 1000 km.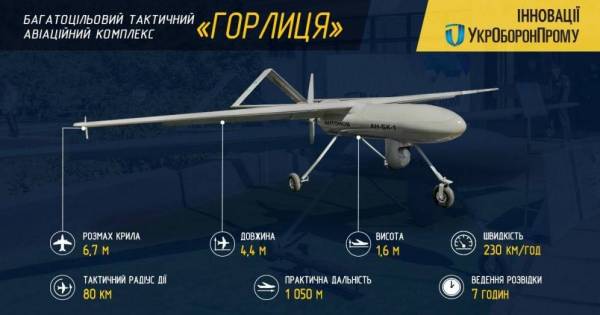 The drone "Spectator" has an optimal ratio of payload weight-to-weight ratio and high aerodynamic performance that can effectively place on the drone reconnaissance equipment weighing up to 1.5 kg with the mass of the drone to 2 kg.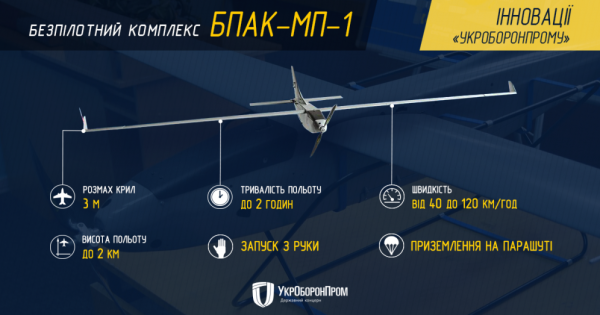 Fighting module "Taipan": weapons designed for light armored vehicles, and weighs only 350 kg While it is equipped with a double-barreled rapid-fire cannon caliber 23 mm, the effective range of which is up to 1.8 km.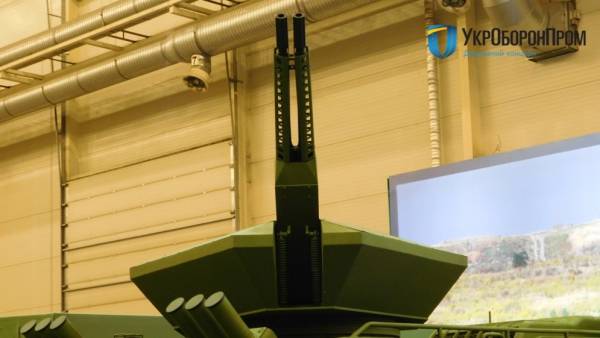 Fighting module "Doublet": equipped with two automatic 30-mm cannon ZTM-1, making possible to double the density of the fire, creating a real curtain with 30-mm shells, or firing alternately, each of the trunks, which allows double the duration of continuous fire without overheating the main armament of the machine. In addition, the "Doublet" is equipped with guided anti-tank missiles, including the modern high-precision missiles "Barrier".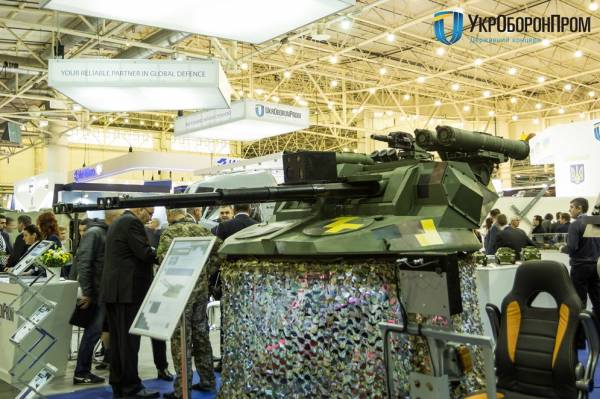 Portable rocket launcher LCD 4 "Ingul": designed to engage lightly armored and unarmored equipment (missile launchers, radar, aircraft parked, car, etc.), structures field type (bunker, BUNKER), as well as manpower, located in open space, shelters, buildings of stone, brick or concrete.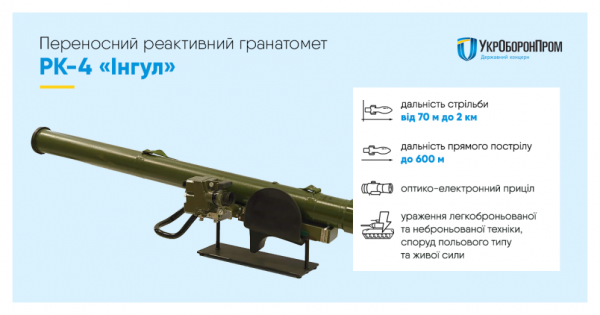 Helicopter Mi-8MSB: equipped with new engines, sighting and navigation equipment, and station optical-electronic suppression "Adros".
In just the past three years, enterprises of "Ukroboronprom" gave 15 903 units of weapons and military equipment for the Ukrainian army. From July 2014 to July 2017, the Ukrainian army increased 5 281 unit new and upgraded equipment, 7 164 units repaired and restored. Among the new and modernized weapons is rocket-artillery weapons, as well as rockets and ammunition – 1 061 units and 2 613 units. the Military also received 1 277 new and upgraded radar systems, electronic warfare and communications, 295 armored vehicles, artillery and special equipment and 35 units of aircraft and equipment.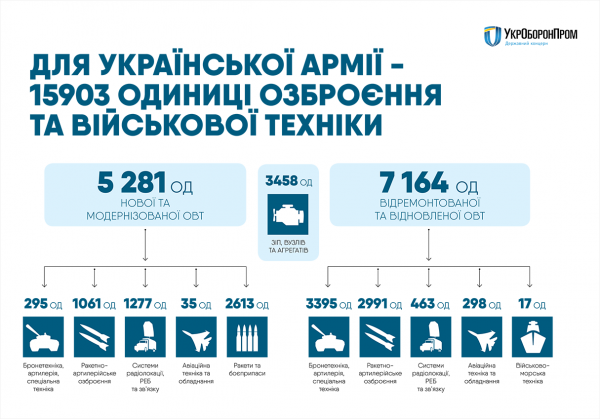 Comments
comments