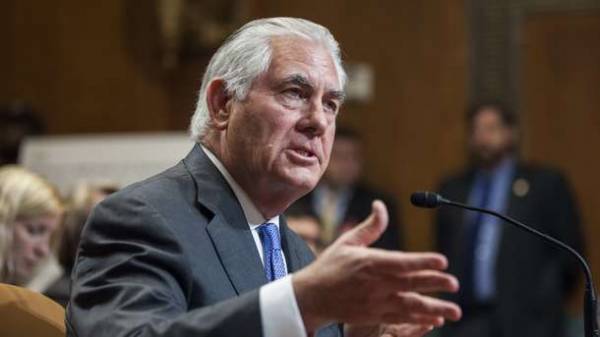 The Secretary of state of the United States of America, Rex Tillerson suggested that Ukraine and Russia can find ways of resolving the situation around Donbass with the help of a new agreement, which may differ from the Minsk agreements. The Secretary of the state Department, said during hearings of the foreign Affairs Committee of the house of representatives, the broadcast which took place on the state Department website.
In particular, the house of representatives member from the Democratic party Eliot Engel asked Tillerson whether the interests of the US easing of sanctions against Russia until Russia complies with the Minsk agreement and before you leave the Crimea.
"I believe that it is important that we have sufficient flexibility to implement the task of Minsk. It is likely that the government of Ukraine and the government of Russia will be able to come to a satisfactory settlement due to a specific structure different from that of Minsk, but for the purposes of Minsk," – said Tillerson.
At the same time, he stressed that he does not want to be "handcuffed to Minsk, if the parties decide to settle the conflict with another, the excellent agreement".
At the same time, Democrat Eliot Engel did not agree with these said Tillerson, noting that in his opinion, Russia only understands "harsh rhetoric". The Congressman also said that if the administration of Donald trump somehow weaken sanctions against Russia until Russia fulfils the Minsk agreements and the return of the Crimea, it will only "encourage Putin to continue the policy of intimidation, and who knows where he will strike next".
In this regard, Tillerson has hinted that the easing of sanctions is "not our intention" to implement the Minsk agreements.
Comments
comments