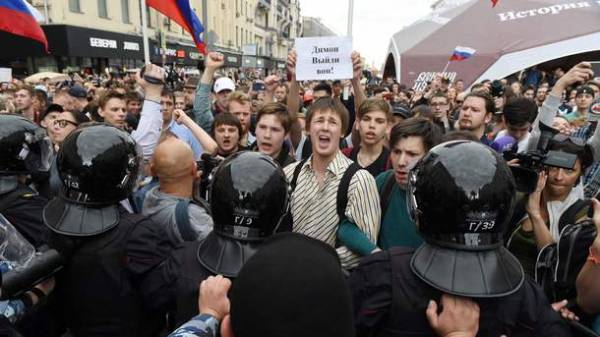 Law enforcement bodies of Moscow have detained 136 juveniles during the opposition campaign against corruption on 12 June in Russia. This was stated by the head of Department of regional security of the Russian capital Vladimir Chernikov, the TV channel "112 Ukraine".
According to officials, these Teens need to "grow up faster", "to correctly assess the situation and understand the main principles, including the principle of "do no harm".
The employee of the Moscow mayor's office also believes that this is the behavior of teenagers, "someone is actively using". The state and the family should work together to create a "mental tuning" of youth, says Chernikov.
Recall June 12 in Moscow, St. Petersburg and dozens of other Russian cities have passed the both agreed and uncoordinated protests, which were a continuation of the first anti-corruption campaigns of opposition leader Alexei Navalny. Then the court arrested him for 30 days on the article about repeated violation of the order of holding rallies.
Note that during a rally in Russia has been detained more than 1 500 activists. Of them – 731 detained in Moscow.
Comments
comments