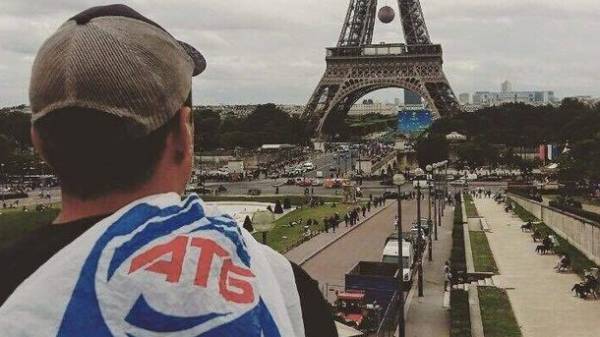 In social networks actively discussing visa-free regime with the European Union, which came into effect at midnight on June 11. Officials and residents of Ukraine are divided in their emotions and opinions.
#btvs uraaaaaa! pic.twitter.com/yM6secjj51
— The Verkhovna Rada (@verkhovna_rada) 10 Jun 2017
vyo, Єvropa, I vzhe do! pic.twitter.com/Yi4wrbl5j9
— Životinja Apokalipsa (@Zverovski) 10 Jun 2017
Right now semiotica pic.twitter.com/JDOyPW9Efe
— Snowie (@HuSnizhne) 10 Jun 2017
#Btvs Podyaka Tim, hto naligaw Qiu the moment for Ukraine Plastic pam'yat Tim, hto marvel at TSE from the sky. The balcony Tim, hto zahida us today pic.twitter.com/ifpCZLulhC
— Olena Vashchenko (@O_Vashchenko) 10 Jun 2017
Do you remember how we lived with visas in Europe. Well, you're a sucker that don't remember, and his grandfather remembers.
— 銀 (@yinkirsiVI) 10 Jun 2017
Bezviz works for 15 minutes, and you're still here
— Edmond Dantes™ (@deMonte_Cristo) 10 Jun 2017
Betws Xia Roda! pic.twitter.com/i1IckIzS4O
— Kit Scientist (@TedTeddycat) 10 Jun 2017
Thought ticket to Amsterdam to buy. Cheap. To get to the sale on @fly_uia. And nifiga. Soubory people put the website. pic.twitter.com/rf5PtzhiU3
— Nikitich (@DNikitich) 10 Jun 2017
First visa-free Tweet
— Cartoonist (@nightseparator) 10 Jun 2017
The Ministry of education decided to remove the works of Lermontov, from the curriculum.
Gray Cardinal (@slevo4kin) 10 Jun 2017
For 4 years BTVS the dyida have nidals cracki Evrosouzu.
Franc on our Ceca Perche bestvi Brosnan! pic.twitter.com/MvKmmt7FZh
— Kit Scientist (@TedTeddycat) 10 Jun 2017
Well, the third toast, to rusbiz
— pan Paloci (@pan_palivec) 10 Jun 2017
Citizen Lermontov urgent ban to hold concerts in Russia!
— Sergey Naumovich (@sergonaumovich) 10 Jun 2017
1-I visa-free army launched a breakthrough in Poland.
— Sovinskiy (@_Sovinskiy) 10 Jun 2017
БЕЕЕЕЕЕЕЕЕЕЕЕЕЕЕЕЕЕЕЕЕЕЕЕЕЕЕЗЗЗЗЗЗЗЗЗЗЗЗЗЗЗЗЗЗЗЗЗЗЗЗЗЗЗЗВВВВВВВВВВВВВВВВВВВВВВВВВВИИИИИИИИИИИИИТИИИИИИИИИИИИИЗЗЗЗЗЗЗЗЗЗЗЗЗЗЗЗЗЗЗЗЗЗЗЗ,pidory
— Sovinskiy (@_Sovinskiy) 10 Jun 2017
S NOVI ROCK
— VP (@sranysovok) 10 Jun 2017
Suddenly remembered. It's been six months) pic.twitter.com/MvOd3h7vGy
— VASILY MAXIMOV (@vasilymaximov) 10 Jun 2017
I do know one thing
in 2011-2013, it was absolutely incredible
the fact
— neon udln prsds (@azubinski) 10 Jun 2017
Bezviz narodivsya! Slavimo Yogo!
Gray Cardinal (@slevo4kin) 10 Jun 2017
On the border now. pic.twitter.com/t5zmYYqvHb
Gray Cardinal (@slevo4kin) 10 Jun 2017
Welcome to Europe, a junta! :)#bezviz pic.twitter.com/oCAe6icknP
— Ukraine today (@uatodaynews) 10 Jun 2017
From Ukraine, besus! #bizwiz #DEG #Ukraine #btvs #11червня #pahali
— Andriy Oliynyk (@andriy_oliynyk) 10 Jun 2017
Tomorrow when you Wake up, once in Europe #bizwiz #btvs pic.twitter.com/7MsMlBX4yq
— Julia Lysenko (@lysenko_ju) 10 Jun 2017
Congratulations to the Ukrainians!
All You get!
Ukraine will be in the #EU and #NATO
and Freedom and the European values already in your hearts.#bezviz
— Sergei Sokolov (@FreeRussianMan) 10 Jun 2017
All bezveza EPT#bizwiz pic.twitter.com/h9WrlNhZbs
— Marshmallow Moriarty (@QueenDrama21) 10 Jun 2017
#BIZWIZ pic.twitter.com/C5Abm18SK1
— Konstantin Kukuškin (@KKKukushkin) 10 Jun 2017
#bizwiz Ukrainians have already started to queue to get to the Vienna Opera…lifelong dream pic.twitter.com/0f2qdibQsm
— Alexander Okhrimenko (@alex_sols) 10 Jun 2017
Soon all EU countries #Pagetab #Bizwiz pic.twitter.com/OKnDXH4inD
— Andrey Oblasov (@Andryulik) 10 Jun 2017
We will remind, Ukrainians today can enjoy a visa-free regime and without additional difficulty to travel to Europe. From midnight June 11, 2017, all citizens of Ukraine who have biometric passports will be able to visit without visas for 30 European countries: all EU countries except the UK and Ireland as well as Switzerland, Liechtenstein, Iceland and Norway. Ukrainians can stay there up to 90 days within each 180 days.
Comments
comments