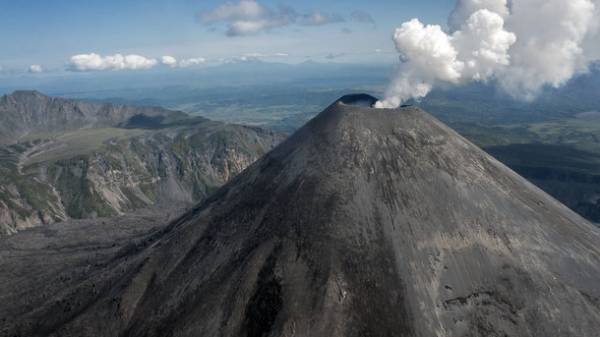 On the Kamchatka Peninsula during the eruption of volcanoes, an earthquake of magnitude 4.0. There is no tsunami threat. Plumes of ash rising above the volcano Shiveluch and Klyuchevsky, have not reached settlements.
According to GU Ministry of emergency situations, seismologists registered an earthquake of magnitude 4.0 occurred in the Pacific ocean off the coast of Kamchatka, according to the Main Department of EMERCOM of Russia in Kamchatskiy Krai. The earthquake was at a depth of 70 km, the epicenter is 125 kilometers Southeast of Petropavlovsk-Kamchatsky.
Meanwhile, scientists from the Institute of Volcanology and seismology, far East branch, Russian Academy of Sciences reported on the continuing eruption of two volcanoes – Shiveluch and Kliuchevskoi.
See also: On the Kamchatka Peninsula began erupting sleep for 200 years the volcano
Shiveluch, the northernmost active volcano of Kamchatka, on Saturday threw a column of ash to a height of six kilometres above sea level, reports "Interfax", the data of the Kamchatka group volcanic eruption response (KVERT).
Ash plume extends in a South-westerly direction from the volcano, and, as specified by the MOE, has not led to pelopidas in the settlements.
According to KVERT, a few hours earlier, the other Kamchatka volcano Klyuchevskoy – threw a column of ash to a height of seven kilometers above sea level. Ash plume also extends to the West-South-West of the volcano.
For Shiveluch and Kliuchevskoi have one of the most threatening – color code orange hazard to aviation.
Earlier it was reported that the volcano Shiveluch on Kamchatka threw a column of ash to a height of 6,5 thousand meters above sea level.
Comments
comments