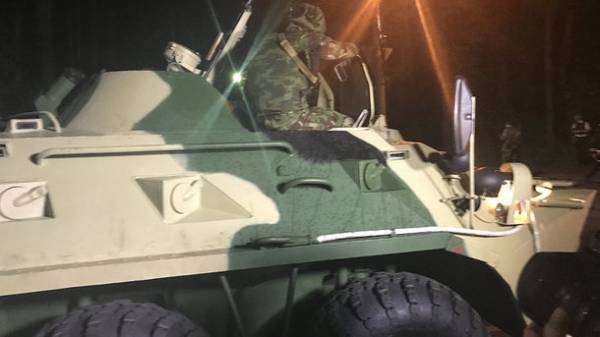 Started a fire the resident of the Moscow region liquidated in a special operation of the interior Ministry and Regardie. About TASS said the official representative of the Ministry Irina Wolf. "A joint operation between the interior Ministry and Regardie completed. The shooters are eliminated," she said. "During the arrest, he had an active resistance," she added.
It is noted that during the RAID suffered 4 of Regardie. "Suffered four commandos. They received minor injuries. To their life threatens nothing", – said the head of the MIA of Russia Vladimir Kolokoltsev.
Kratovo arrows were shot a few hours after he was blocked by law enforcement authorities, said the interior Minister. "The criminal was locked, he shot back a few hours, there were 14 explosions", – he told reporters.
The head of the MIA of Russia noted that the motives of the shooting of people in Kratovo will be installed during the investigation. "The investigation will assess the actions of the criminal and establish all the motives," he told reporters.
It is noted that spetsoperatsii were involved almost 200 fighters of Regardie and employees of the interior Ministry.
The wound was reported that in Moscow the ex-military started shooting at people: four dead, many wounded. the man opened fire from a hunting carbine "saiga" from the household on Pushkin street in the village of Kratovo Ramensky district, Moscow region. Police found the bodies of the victims on the territory of a household where the man was firing, but was unable to pick them up. In addition, the incident was also wounded three people.
The soldiers of Regardie attempted to storm the house. In response, the shooter opened fire on the special forces and threw two grenades. The man refused to negotiate with anyone, set his house on fire and fled. Law enforcement bodies of the Russian Federation tried to detain the shooter, but he continued to shoot and throw grenades.
As eyewitnesses told, the shooter served in Chechnya during the armed conflict, currently lives with mother. Neighbors claim that the man suffers from a mental disorder.
Comments
comments