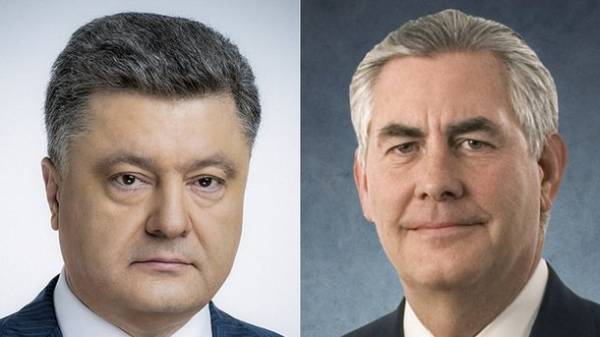 The President of Ukraine Petro Poroshenko held a telephone conversation with the Secretary of State of the United States of America, Rex Tillerson.
About it reports a press-service of the head of state.
Petro Poroshenko expressed condolences to the American representative of the Special OSCE monitoring mission, who died in the result of today's explosion patrol in the occupied territories and condemned all forms of constant interference by militants in the work of the OSCE SMM.
The President has encouraged greater consideration of the accommodation on the Donbass international peacekeeping force under UN auspices.
The interlocutors discussed the results of a telephone conversation in the Normandy format on April 18 and the results of us-Russian talks in Moscow on 12 April.
Petro Poroshenko expressed gratitude for the strong and uncompromising position of the US in support of our state based on the principle of "nothing about Ukraine without Ukraine".
The sides expressed concern over the dangerous development of the situation in the Donbas and stressed the importance for Russia to fulfill the Minsk agreements, particularly the elements relating to security.
The head of state called for maintaining a unified international front in the policy of sanctions against the Russian Federation to the complete restoration of the territorial integrity and sovereignty of Ukraine.
The sides discussed issues of strengthening of strategic partnership between Ukraine and the USA, and the schedule of bilateral contacts, including at the highest level.
Comments
comments