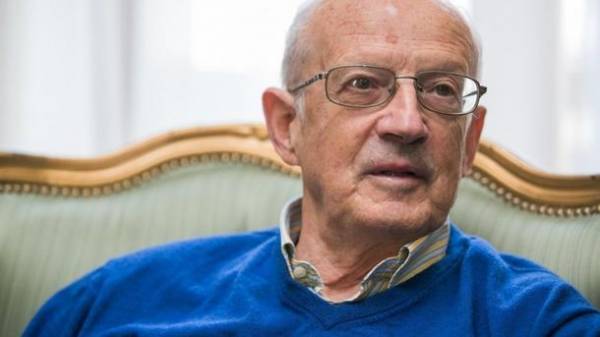 New sanctions against Russian companies in connection with the DPRK are sensitive not so much economic as political, because the President of Russia Vladimir Putin still hopes for a US President Donald trump. This opinion was expressed by Russian publicist and political analyst Andrei Piontkovsky in an interview Каспаров.Ru.
He noted that last press conference, Putin showed that he still has not refused "dear to him of the illusion called "Trampas".
"It was ridiculous when at the St Petersburg forum has appealed to us businesses to support Trampusch, "your President, which opposes the American bureaucracy". But, apparently, Moscow does not understand how difficult the situation of their pet," – said the analyst.
Piontkovsky recalled that in recent days has been widely discussed the information that the administration trump tried to cancel sanctions against the Kremlin adopted in response to the aggression against Ukraine.
"Trumpety wanted to do it on the sly, taking advantage of the fact that the state Department almost none of the key officials left. Congress reacted by securing sanctions legislation. The strengthening of sanctions, not only in Korea but also in Ukraine, is a just response to the actions of trump. In the political struggle and the current President of the United States is losing to the establishment. His deviant male sympathy to Putin pulls a trump on the bottom, but in spite of everything, he again and again tries to do something nice and useful for the Kremlin", – he stressed.
According to the analyst, mutual sympathy trump and Putin is hurting both of them. "Putin, trump together drown each other. No prospects that sanctions against Putin's Russia will be reduced, no. We are talking only about their strengthening", – he concluded.
Recall Yahoo News, citing sources in the White house and the state Department reported that the trump in the first week of work was going to take steps to relieve tension in relations with Russia. It was noted that senior administration officials trump almost immediately after his inauguration directed the State Department to develop proposals for the lifting of economic sanctions against Russia.
Against Russia imposed economic sanctions by the United States, the European Union and some other countries in the spring of 2014 after Russia annexed the Ukrainian Peninsula of Crimea and military aggression in Eastern Ukraine. The sanctions packages several times expanded and tightened.
March 8, 2017, the Secretary of state Rex Tillerson assured the Minister of foreign Affairs of Ukraine Pavel Klimkin, that U.S. sanctions against Russia will be in effect until full implementation of the Minsk agreement and de-occupation of Donbas and Crimea.
1 June 2017, the U.S. Treasury imposed sanctions against three Russian companies and a Russian citizen, the Director General was in Moscow, the company Ardis-Bearings LLC, because of their ties with the DPRK.
Comments
comments