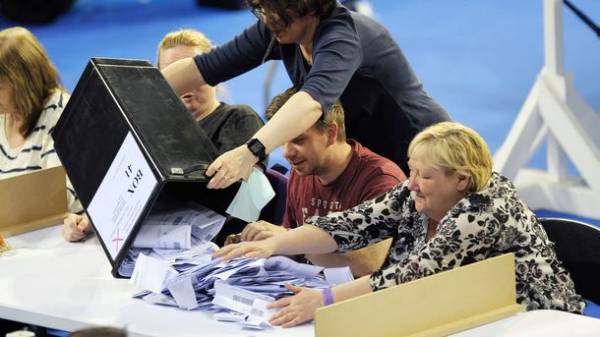 The conservative party leads in elections to the UK Parliament. Reported by the Daily Mail, referring to the exit polls.
According to polls, the conservatives get 314 seats out of 650, labour party gaining 266 seats, in third place — the Scottish national party with 34 mandates. The liberal democratic party can count on 14 seats, the independence Party in Parliament misses.
Sociologists have noted a serious risk of losing Conservative party an absolute majority in Parliament. Shadow Minister for foreign Affairs Emily Thornberry in the TV channel Sky News said that the labour party called for Prime Minister Theresa may to resign in case of confirmation of data from the exit polls.
The first official results of the General vote will appear on the morning of 9 June.
5 Jun English street-art artist Banksy said that free will send their work to those who vote against the conservatives in the parliamentary elections.
The conservative and labour party of great Britain 4 June suspended the campaign in connection with the terrorist attacks in London. Then in the night from Saturday to Sunday on London bridge unknown minibus drove into a crowd of 20 people. Then jumped out of the car three people "South of the appearance" and began attacking passersby with knives.
Comments
comments